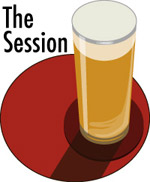 Boak & Bailey have posted the roundup for The Session #113. A pretty good turnout, including one "observation from outside the European-American axis."
Lots of good reading, so head that way for the links.
Spoiler alert, here's what they learned (from this admittedly small sample):
1. Vaping in pubs, which we saw lot of in Newcastle and a bit in Birmingham, isn't as universal as we'd expected.
2. Pubs are pubs are pubs — there's nothing in the descriptions above that made us think we'd be unable to cope with any of those venues, even Suzuki Drink, which sounds the farthest from our experience.
3. A major football tournament doesn't necessarily dominate pubs even when they're showing it.
4. That looking closely at even the most familiar pub can reveal intriguing details.
5. Observations without narrative can seem rather dry… But anyone looking back on these in a hundred years time (digital decay and pending apocalypses permitting) will find plenty to enjoy in every entry.