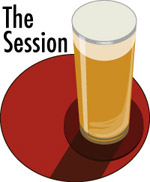 So that's it. Last call sounded for The Session. Yards Brawler was poured, and 21st Amendment's El Sully, and Guinness, and many other beers.
Music and memories were shared.
Nobody blamed the millennials.
Thanks to those who provided final contributions.
Jon Abernathy, The Brew Site
Regardless, it (Black Butte Porter) is my "ending" beer, my one more for the road, that I'm seeing The Session (and more) off with. It's a bittersweet ending, perhaps not unlike the flavor of the beer, but in the end I know it's also the beer I will always come back to, a foundational beer to commemorate endings and celebrate new beginnings.
Tom Bedell, The A Position
If I feel the earth starting to move under my feet, however, I'll try to make it down to my beer cellar (i.e., the garage), where I've been aging a few bottles of the Sierra Nevada Our Brewers Reserve Grand Cru. The Grand Cru is a strong beer lover's dream at 9.2% ABV, but with all the depth and complexity one can hope for in a beer. It's actually a blend of three beers–Sierra Nevada's flagship Pale Ale; its annual holiday hopfest, Celebration Ale, and its lid-lifting Bigfoot Barleywine-Style Ale. An added fillip is that the Bigfoot was aged in oak before the blending.

Jessica Boak and Ray Bailey, Boak & Bailey's Beer Blog
And, let's face it, Guinness fits a funeral best of all, permanently dressed in that old black suit. It feels as if Ireland owns funeral drinking in some sense born of stereotypes and heavy literature, so even if you aren't even slightly Irish on your mother's side, Guinness fits.
Jay Brooks, Brookston Beer Bulletin
Duchesse de Bourgogne is a beer that ideally you should take as long as possible to finish, it should not be hurried. It changes as it warms, which adds yet another element to the experience, so it's not quite the same beer it was in the first few sips as it is when you drain the last remnants of the bottle. And when it's empty, I'm a little sad, which is how I feel about the Session ending, too. So for this Session, it's perfect. A perfect beer, a perfect end.
John Duffy, The Beer Nut
Farewell then, Bristol. And farewell to The Session. I've had a lot of fun since my first contribution in 2007, twisting what I'm writing about to fit the theme. Cheers to Jay and Stan who created it, and all the hosts and contributors over the years. I don't know what my final "beer for the road" will be, but I'll definitely be planning the next one before I've finished it.
Lisa Grimm, WeirdBeerGirl.com
Even when sampling other milds on trips to Britain, (Yards) Brawler is my benchmark – is it as good? And now, while planning our holiday visit back to our old stomping grounds, carving out time to visit the new Yards Brewery is high on the list of priorities; the opportunity to have a fresh Brawler, steps from where it was brewed, is one that can't be missed (and hopefully the weather cooperates).
Alec Latham, Mostly About Beer
I want the Brakspear Bitter from when I was sixteen and cared nought for the ale's backstory. I was there on best behaviour. The older generation of my family got the drinks in. When recollections of beer come from my teenage years, they acquire an added layer of acuity which is lent more to fantasy than objective tasting.
Mudge, The Pub Curmudgeon
I miss you, dad, but I'm glad I shared a final pint of real ale with you in a proper pub.
Alan McLeod, A Good Beer Blog
To my surprise, over 15 years of this beer blogging seen many endings. The long goodbye. Endings I had not anticipated. People coming into view and then some time later departing, stage left. Switching to PR, quitting writing, quitting beer, moving along, falling apart, passing away.
Jack Perdue, Deep Beer
At some future, if you are reading this after my passing to the other side of this life, and you are going through my belongings and come across several boxes of beer, please enjoy them — that is their purpose. Let the flavors fill your mouth and nose and thoughts completely. Sip, savor, drink laviously. Read the labels from the places they were collected. Drink some now, save some for later, give some away to my friends and yours. They were meant by those that brewed them and those that drink them to bring pleasure to life.
Derrick Peterman, Ramblings of a Beer Runner
I'll toast the end of The Session with one of my favorite local go-to beers, El Sully Mexican Lager from 21st Amendment, as it epitomizes a lot of the changes in brewing over the life of The Session.
Alistair Reece, Fuggled
Even though the session is ending, there is no need to rush over the last beer, and there is always the knowledge that there will be another session, maybe by another name, in the not too distant future. Not sure where, not sure when, not even sure who will be there, but in the words of the old Scots song:
So fill us a tankard o nappy broon ale
It'll comfort our herts and enliven the tale
For we'll aye be the merrier the langer that we sit
For we drank thegither mony's the time, and sae will we yet
Dave S, Brewing In A Bedsitter
Big and rich, yet comfortingly familiar? For me, the beer that covers that, with a slight hint of something beyond the temporal is St Bernardus 12. See you on the other side!