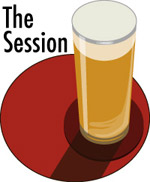 Welcome to The Session #118. I'll be the host today, inviting a few guests and picking some beers. As you may recall the theme is pretty simple:
If you could invite four people dead or alive to a beer dinner who would they be? What four beers would you serve?
We played this game here in a slightly different way almost exactly nine years ago. I think the results made for some interesting, even educational, reading, which is one of the reasons The Session has been around for 118 months, right? The choices certainly were diverse, with more musicians picked than brewers. Only three guests were invited to more than one dinner — Michael Jackson, William Shakespeare, and Martin Luther.