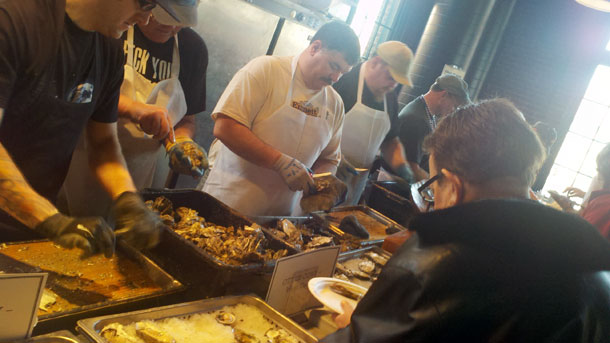 Call it A Snapshot of Middle America or Things That Happen in the Shadow of the Eagle.
Friday and Saturday at Schlafly's Tap Room in St. Louis: The Stout and Oyster Festival.
Saturday at 4 Hands Brewing (2 miles away, an easy walk, and you can even swing by Busch Stadium): Lupulin Carnival.
Schlafly (officially The Saint Louis Brewery) flies in 50,000 oysters and shuckers from both coasts. No tickets are necessary — but a willingness to stand in line helps. There will be lines. Schlafly will be serving five different stouts as well as oysters in different combinations. The shuckers are fun to talk to, and for some reason they seem particularly keen on trying Imo's Pizza, a local specialty made with Provel processed cheese.
4 Hands' Carnival really is a carnival (photographic proof) and also will have beer from about 50 breweries. Tickets are for sale here or if you hurry (deadline looms) you can enter the STL Hops contest to win two tickets. All you need to know:
"We're going to once again pick the most creative hop-based clown name or hop-based carnival ride. For example: Citra the Clown or the Calypso Cyclone. Only, don't use those, because they suck."