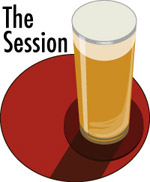 It has come to my attention I am hosting the 118th gathering of The Session in a few weeks. I obviously had not thought things through back in March of 2007 when I suggested we do this once a month. I didn't have an exit strategy, but I certainly did not anticipate The Session would still be going more than nine years later. So here I am hosting for a third time and looking for a theme unlike the 117 that came before.
How about this?
If you could invite four people dead or alive to a beer dinner who would they be? What four beers would you serve?
If the questions look familiar it might be because we played the game here nine years ago. It was fun, so let's take the show on the road. To participate, answer these questions Dec. 2 in a blog post (or, what the heck, in a series of tweets). Post the url in the comments here or email me a link. I'll post a roundup with links some time the following week.