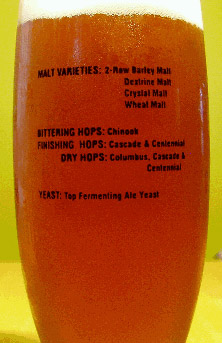 Thinking about Anchor Liberty yesterday got me thinking more.
So here, off the top of my head and before I get to the real work of the day, are 10 Beers That Changed What's In Our Glass.
Pretty bold, I know. And something I could easily regret, so be gentle with your flames. It's a list of 10. Not the only 10 or the most important 10, but 10. For fun.
And something that maybe will get you thinking about the ones that changed how you think about beer.
The guidelines were pretty simple. We start with American beers in the modern era (no, not the introduction of the Cascade hop but with Fritz Maytag buying a stake in Anchor Brewing in 1965).
One beer per brewery (a rule I sorta broke) and no "dead beers." So New Albion isn't on the list, nor is the gueuze from Joe's Brewery in Illinois (besides, a lot more people talk about that beer than ever drank it).
The tough call was Celis White, because Michigan Brewery bought the brand and Pierre Celis consulted on brewing the beer at its new home. But it's not the one first brewed in Texas, and that original was important on so many counts. Would Blue Moon White – maybe poised to become the No. 1 selling American-brewed specialty beer – have followed? A good chance not.
Here we go (the order being when they were introduced):
1. Anchor Steam – Not only did Maytag save this indigenous American style, but Anchor introduced or re-introduced Americans to holiday beers, barley wines, American wheat beer and more.
2. Sierra Nevada Pale Ale – It's an ale revolution …
3. Samuel Adams Boston Lager – … but the leading ambassador has been a lager.
4. Fat Tire – The beer from New Belgium Brewing that's so famous on its own that many people think it is the name of the brewery. Co-founder Jeff Lebesch expected Abbey, brewed in the manner of a Belgian dubbel, to be the flagship. Wrong.
5. New Glarus Wisconsin Belgian Red – It seems unlikely there will be a pivotal moment for American beer like the 1976 "Judgment of Paris" was for wine. But Belgian Red besting beers brewed in Belgium in the 1996 Brewing Industry International Awards was a pretty big deal.
6. Pliny the Elder – First brewed in 1994 at a different brewery and with a different name (Blind Pig Double IPA), but by the same brewer. The first Double IPA, and now Double/Imperial IPA is an official style. Served at the 1995 Great American Beer Festival, where the next beer also hit the radar. (The photo at the top is the glass, complete with the original recipe, used to serve the beer on its first anniversary.)
7. Goose Island Bourbon County Stout – A rarity in 1995, but if BusinessWeek is right then barrel-aged beers have reached the tipping point.
8. Dogfish Head World Wide Stout and Samuel Adams Utopias – Yes, a second beer from Sam Adams. In fact, Boston Beer started us down the Extreme Beer path by introducing Triple Bock at the 1993 GABF and to the public in 1994. It continued to brew stronger versions, but in 1999 Sam Calagione of Dogfish Head made a stronger beer. He held the record a few weeks before Sam Adams introduced Millennium (for the upcoming millennium). That morphed into Utopias, now stronger than 25% abv. The back-and-forth focused mainstream attention on the concept of Extreme Beers.
9. Cuvee de Tomme – Michael Jackson's review in 2000 understates the influence this beer continues to exert.
10. Dale's Pale Ale – The beer wasn't new in 2002, but that it was packaged at the small brewery in Colorado and in a can was. How else does a beer from Lyons (a lovely town, but have you been there?) end up in a blind tasting conducted by the New York Times? And win?