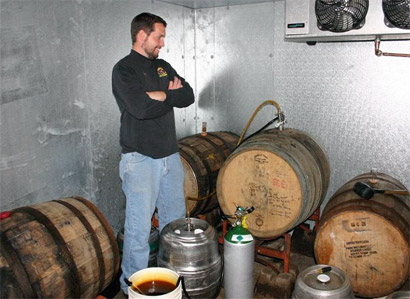 It's one line in a two-page spread – so the impact won't be the same as if Oprah were to declare her love for IPAs (headlines across the the country scream, "Hops Sales Soar Through The Ozone Layer") – but the current BusinessWeek reports on The Food and Wine Classic in Apsen, Colo., calling it a leading indicator of food trends.
And those trends would be?
"We'll be hearing a lot more about Spanish and Greek wine, unusual pairings such as wine with chocolate, hand-cured meats, and barrel-aged beer."
Before you get too excited, let's consider how much more – oh, just for instance – Miller Chill there is out there for us to buy than there is barrel-aged beer. Give your favorite better beer store a call. I'll wait. And they had? Maybe some Rodenbach Grand Cru if you're lucky. Perhaps Jolly Pumpkin La Roja? Less likely.
The Angel's Share from Lost Abbey? They had that and you didn't hang up the phone and get immediately in the car? Shame on you.
So where are these beers going to come from?
You read about barrel-aged beers, but how often do you see them? There were 87 entries in the wood- and barrel-aged categories at the Great American Beer Festival, and some other wood-aged beers entries in other categories (Belgian sour beers in particular).
One of the medalists was Wooden Hell from Flossmoor Station in Illinois. That's brewer Matt Van Wyk up above. The photo is courtesy of Todd Ashman, formerly of Flossmoor Station and now at Fifty Fifty Brewing in Truckee, Calif., who collected barrel shots from across the nation for a talk he gave last year at the National Hombrewers Conference. This one came from Flossmoor assistant brewer Andrew Mason.
You'll notice his "barrel room" is on the small side. The city of Rio Rancho, N.M., will go through more Blue Moon White this weekend than those barrels would hold.
With four 60- and six 130-hectoliter foders New Belgium Brewing must have the largest wood capacity in the country. To the best of my knowledge, Lost Abbey Brewing in California is the next largest with 130 wine and spirits barrels, and many of those are waiting for beer. Brewery Tomme Arthur recently authored a delightful blog post about barrel filling season.
(A little background: Most wine barrels hold 225 liters, a little less than 60 gallons. A barrel of beer, the measure we use most often, equals 31 gallons. A barrel of beer will produce about 13.8 cases of 12-ounce bottles, or two kegs. A barrel of wine yields 25 cases of 750ml bottles – but of course that's almost two barrels of beer.)
When Russian River Brewing's production plant is up and running (yes, I need to write more about that) the barrel room will hold more than 325 wine barrels so RR could produce 560-plus beer barrels (31 gallons) a year. Given that some beers will age longer, keeping barrels filled takes times, and still other reasons, 400 to 500 barrels a year seems more likely. That's half the production of your average brewpub – and we won't see any of it until 2009.
So back to all those GABF entries. Brewers are interested. Heck, New Holland Brewing in Michigan has 50 wood barrels at work right now, and the barrel display at Upstream Brewing in Omaha will take your breath away.
The list goes on. Flossmoor is up to 12 barrels, Jolly Pumpkin continues to add barrels, Cambridge Brewing outside of Boston has a captivating barrel cellar. Maybe I should just post a bunch more barrel-room photos.
But we have still to go looking. Sprecher Brewing in Wisconsin sells (or sold, they may be gone) a wonderful Dopplebock aged in bourbon barrels, but produced only 389 of the one-liter bottles. New Holland just rolled out Moxie, a sour ale aged in wood and only 424 750ml bottles are available.
The same day that Lost Abbey released Cuvee de Tomme the brewery sold all 480 375ml bottles that will be available until the next bottling (in the fall). Obviously underpriced at $15 apiece.
Cheap by Aspen standards – and heaven forbid Oprah finds out about these barrel-aged beers.