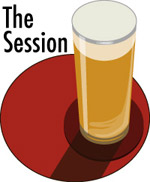 Three-time Session host Alan McLeod — the first three-time host — has offered a question for the 95th round that is delightfully easy for me to answer.
What is the book you would want to write about good beer?
I'm already at work on a book focused on indigenous beers of North America, past and present. Expect it from Brewers Publications in September of 2016.
There are plenty of other books I think somebody should write, so three quick suggestions:
– More indigenous. It's a big world.
– More national or regional books like Martyn Cornell's "Beer: The Story of the Pint: The History of Britain's Most Popular Drink." Memo to publishers:it is out of print and used copies are going for $40. Seems to indicate a level of reader interest.
– The last few days Jeff Alworth and McLeod have posted some year-in-review stats for Beervana and A Good Beer Blog respectively. A quick look here reveals that the best read post here is from almost seven years ago (gee, Stan, what have who written recently?): "Words to describe the beer you are tasting" (14,754 views). And I am pretty sure they are coming to read what I cribbed from the Merchant du Vin newsletter. No 2014 post attracted one third the attention (the top ones were all hop related). Does this demonstrate the need for an entire book? I'm pretty sure somebody clever could wrap a very interesting book around this topic, or use it to write something I would find totally silly and useless. Strangely intriguing.
Of course I'd like to see these books in print in English. That's the language I read. But it should be obvious much of the research requires understanding other languages, making sense of things when Google Translate struggles.
If you decide to tackle one of these projects you are welcome for the ideas. You know you've got one customer. If you are looking other inspiration, then poke around the comments section at A Good Beer Blog. I fully expect to see something there I wish I'd thought of first. (Confession, I have a "Steal this idea" folder on Evernote.) But I've already got a book to write.