"Brewing technology does not stand still." – John Palmer, 2017.
Amen.
Author John Palmer prefaces the fourth edition of How To Brew with an explanation of not only how it is different than the version published 11 years ago, but why. He wrote the first edition, which appeared online in 2000, for people brewing beer in order to enjoy styles that otherwise were not available. In contrast, "Today's homebrewer is brewing for the pure pleasure of creating a beer, rather than to fill a void in availability. Therefore, my focus in this latest edition is to help you understand how to brew the best beer."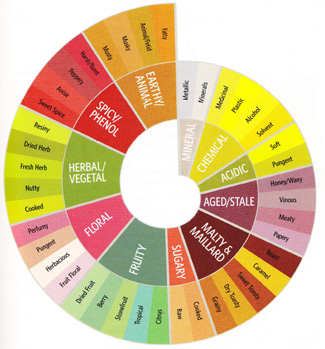 How to Brew is one of two thoroughly revised essential beer books published this spring. The mission of the other, Tasting Beer remains the same. "In a concise and visual way, this book aims to introduce you to the wide world of beer and to give you the tools to understand and, more importantly, enjoy it," author Randy Mosher writes on the second page of each edition. He also provides more tools, and more visuals. The beer aroma spiral on the right is an example. If you've ever spent time with the Beer Flavor Wheel you know it is complicated and focuses as much on faults as words that help you identify the aromas and flavors you like. I prefer concise and visual.