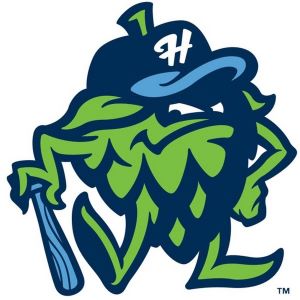 New hop varieties from Australia and New Zealand* will be headed to the United States after the harvest down under next March and April, so competition for 2021 hop rookie of the year is going to be interesting. Don't bet against Talus from the Hop Breeding Company in Washington's Yakima Valley.
(Pardon the silliness. That's the logo for the Hillsboro Hops minor league baseball team on the left. In addition, you could argue we are talking about the 2020 rookie of the year. Maybe we should see what Kris Bryant thinks.)
By announcing a name for the experimental hop previously known as HBC 692 the company signaled she is her own brand. "We were getting very significant pull (demand)," said Jason Perrault, CEO and hop breeder for Yakima Chief Ranches. HBC is a partnership between YCR and John I. Haas. "We've seen the impact it can have in a beer. Unique, but appealing. It was just time to give it its own identity."
The name, Talus, is a nod to the talus slopes found in the Yakima Valley. She is a daughter of Sabro, the hop formerly known as HBC 438 and commercialized in 2018.
I helped organize a tasting of IPAs made with experimental hops two years ago at Zebulon Artisan Ales north of Asheville, N.C. Mike Karonwski, who prefers brewing Ron Pattinson-inspired historic recipes, suggested and hosted the tasting. Breeders from both hemispheres sent hops. I'm not sure what made it more fun—that Karnowski made more IPAs for the tasting than he does the rest of the year or dealing with customs.
The lineup included two hops from HBC (692 and 630), two from Hop Products Australia (HPA -016 and 033), three from Charles Faram in the UK, and two from Hopsteiner (X04190 and X09326).
Five of those now have names and a sixth, HPA-016, will have one by November. The Faram hops became Godiva (already CF217's working name at the time), Mystic (previously CF160) and Harlequin (CF212). Hopsteiner X04190 became Contessa, described here last week. She is not really an IPA hop, and served as something of a control.
And, of course, now 692 has a name.
Those attending the tasting rated the IPAs 1 to 5 in six categories (floral, spicy/herbal, woody/earthy/resiny, citrus, vegetal and red/sweet fruits). These were not trained panelists, but they did their best and sometimes added interesting notes. (Such as from the participant who described HPA-016 as "vampire killer" and 033 as "vampire sedator.")
Talus easily rated highest in both floral and citrus, even though it came up last in the lineup and by then alcohol and palate fatigue had kicked in. Pretty much every citrus-related flavor was described—lime, orange, lemon peel, lemongrass, pineapple, tangerine, grapefruit, you get the idea.
My two favorite notes for HBC 692 were "unicorn toes" and "Minty, resin, grapefruit, onion, minerals. The future with flying motorcycles instead of jetpacks."
Expect to see plenty of IPAs hopped only with Talus next year. Heck, I had a couple with 692 last year in Brazil. In one of those, the brewer said he was shooting to showcase even more coconut character sometimes found in Sabro. That didn't work.
Once the wave of single-hop Talus beers passes I am looking forward to tasting how brewers use it in combination with other hops. You know, in beers that aren't dry hopped with six pounds per barrel. I suspect it will play well with others.
~~~~~~
* The new variety from New Zealand is called Nectaron. The name is a marriage of Nectar of the Gods and breeder Ron Beatson's first name. As an experimental the hop was called Hort 4437. NZ Hops CEO Craig Orr said, "In its advanced trial stages, it has usurped the interest around Nelson Sauvin. We think it's a quite significant threat in terms of the profile you see in American hops like Citra and Mosaic–it's an absolute candidate to take over from those guys especially in its own backyard." Pretty bold.
It will be available only in New Zealand, Australia and the United States for now.
Hop Products Australia plans to announce a name for HPA-016 in November. She is the result of a cross made in 2004 and has been trialed extensively by Australia brewers. Matt Hogan, head brewer at Hope Estate, draws a comparison to Galaxy that will interest American brewers.
"I guess it's something a little bit different to Galaxy in terms of it's got plenty of fruity hop but it has also got this spice to it, which just gives it another dimension," he said. "I think it will work well in that NEIPA style, I think it will work well in most pale ales, and it might also work pretty well in a hoppy pilsner or something like that–in anything where you're looking for some fruity characters."
And then there is this tasting note from Asheville: "If this were gumbo it would be the best gumbo I ever smelled."