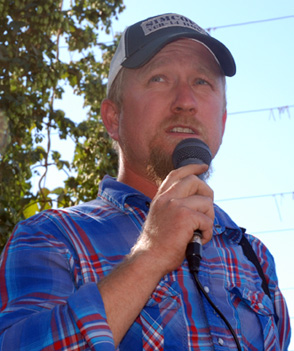 The Hop Breeding Company just announced it has given a full name to an experimental hop previously known simply as HBC 438, the homebrew hop, or Ron Mexico. That means Sabro brand HBC 438 will be sold to commercial breweries to use on a larger scale.
It's pretty well guaranteed to be a star. It has the attributes brewers intent on delivering tropical and other bold aromas are looking for, with a high percentage of essential oils (3-3.4 mL/100g; Cascade has 0.8-2.5, Citra 1.5-3), and particular compounds (linalool and geraniol) considered markers for outsized flavor. Based on its lineage, it also likely contains thiols that contribute to New World character.
I first had a chance to smell HBC 438 when I spoke at Hop Union's Hop & Brew School in 2013. It was one of several unlabeled varieties, including commercially available hops and experimental ones, and one of two that "popped" at first whiff, Simcoe being the other. On that day, at least, I preferred the aroma to Citra and Mosaic (which were also on the table). I gave it high marks for tropical fruit, stone fruit, herbal and spicy, and liked a subtle cedar note. But I also gave it five (out of seven) for onion/garlic (less than Mosaic, more than Citra). Of course that was only the aroma of the raw hop.
Beers made with the variety will be poured at the Craft Brewers Conference Brew Expo American in Nashville next week, where I'll be able to ask about how much Sabro will be available after the 2018 harvest. (I'll also ask about thiols, and report back in Hop Queries.)

You sometimes see varieties like this described as "designer hops," suggesting they have been rushed to market to take advantage of the latest trend. However, the cross that created Sabro was made in 2004, at a time the Simcoe brand seemed as likely to disappear as thrive and Citra and Mosaic were unnamed experimental hops. During the 2015 National Homebrewers Conference in San Diego, Jason Perrault (pictured at the top) of the Hop Breeding Company, Karl Vanevehoven of Yakima Chief Hopunion and Vinnie Cilurzo of Russian River Brewing Co. gave a seminar explaining the long path to market for any hop variety, and announced that 438 would be sold only to homebrewers for an undetermined amount of time. I wrote about this in some detail at the American Homebrewers website, but here is the condensed version.
The mother was a plant given to Perrault by Chuck Zimmerman in 1997. Zimmerman, Perrault's mentor, was one of the most influential hop breeders, well, ever. He worked for the United States Department of Agriculture (USDA), having a hand in developing hop varieties such as Chinook and Centennial, bred hops in his own yard (the results including Simcoe and Warrior), and later helped establish Select Botanical Group, which merged with the John I. Haas breeding program in 2003 to form the Hop Breeding Company.
"Chuck's Mexican" is obviously an altogether different plant from most cultivated hops growing elsewhere. "I'd never seen anything like it," Perrault said. It smelled rank, its leaves looked like those on a marijuana plant, and it flowered late if at all. He had to quarantine it because otherwise it would overrun the garden in which it was planted. He doesn't know exactly where Zimmerman got it, but is pretty certain it came for the American Southwest or possibly northern Mexico. It's clearly from the neomexicanus branch of the Humulus family (more about the botany here). Those hops migrated from Mongolia to North America 500,000 or more years ago, so plants in the Southwest have had plenty of time to develop/adapt differently from those in the Northwest.
Sabro is a result of open pollination, meaning the father is unknown. Perrault noticed that several of the offspring had unique aromas, particularly selection #0406363074 ("fruity, banana"). Because #0406363074 didn't exactly roll off the tongue he and Vanevehoven gave it a code name: "Ron Mexico."
"It gave us an idea," Perrault said at the 2015 National Homebrewers Conference. "If we are getting these great results from homebrewers, and we get a lot of support and a lot of energy from you guys, why not utilize that and give you guys a hop to test before the commercial brewers are able to get it?"
When I first sampled 438, Perrault called it a "love it or hate it" hop.
I'm pretty certain there is a "love it are hate it" style out there it will end up in.