04.08.19, BEER AND WINE LINKS, MUSING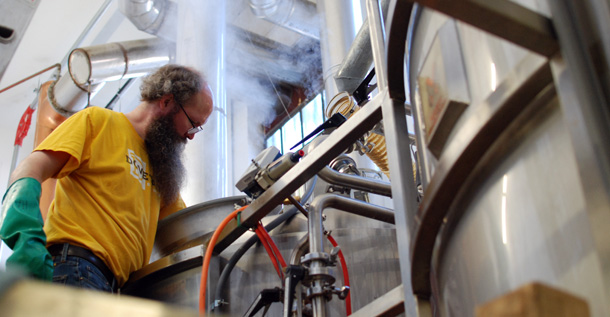 I spent about 21 hours during two days midweek at Dovetail Brewery in Chicago. It was quite noisy as times — I understood that the brewery sat next to the city's Brown Line, but I didn't know it had built a nest between two train tracks. Yet, when trains aren't running it can be flat out quiet, particularly in the coolship room, looking at wort sometimes produced using decoction, and other times with a turbid mash. The turbid mash itself is less peaceful; co-founder Bill Wesselink raised an ugly looking blister doing some of the mixing by hand. Not until I was catching up Friday did I realize what a noisy week I had happily missed much of, one with many stories that intersected. So a different format today, and here goes . . .

Who is not worthy?
Greg Koch announced that Stone Brewing has left the building, transferring ownership of the massive brewery and beer garden it built in Berlin to BrewDog. This news was greeted with a glee in certain Internet hangouts. Offering more nuanced commentary, Jeff Alworth examines the cultural gap: "Who knows if Stone might have made the Berlin project a success by building a bridge between two cultures. But the failure to even try is surely the centerpiece of this story." I look forward to thoughts from Joe Stange, who has been living in Berlin the last four years. In the interim, there's plenty more Greg Koch in a recent Good Beer Hunting podcast.
The future of consolidation?
Ninkasi Brewing Sells Majority Stake, Establishes National Platform to Acquire Other Breweries. This would seem to be only the beginning for "upstart venture" Legacy Breweries, which plans to purchase two more "Nikasi-sized" breweries in the Midwest and east regions of the U.S. According to Brewbound, "As those 'brewing hubs' are established, the company would also look to acquire 10 to 15 smaller breweries in those geographies. Those companies would be able to access expanded production and packaging capabilities and have better access to raw materials such as hops, malt, and cans."
Last week I pointed out that there are dozens of breweries about the same size as Magic Rock in the UK, and that it would be hard to imagine them being purchased by a multinational (as Magic Rock was). Now it is relevant to ask just how small Legacy considers small.
Capacity to brew more beer has already been built, but not always exactly where there is demand for particular beers. That is why Avery Brewing will likely be producing even more Founders All Day IPA.
Price points.
Particular beers are ones that sell for more, that some people refer to as craft and others still call microbrews. The Brewers Association reports that craft beer sales increased 4 percent in 2018, the slowest rate of growth in a decade. Sales of microbrews (beers made at microbreweries, which are breweries producing up to 15,000 barrels) grew about four times as fast. Some of that was beer brewed at the 700-plus operations that opened in 2018.
And as Pete Dunlop writes, "Don't expect openings to drop off significantly anytime soon. Craft beer's cult of personality means there's an almost endless number of optimistic souls who want to open their own brewery. Whether these folks open in underserved or overcrowded areas, their success will depend on them doing a lot of things well. The era of the successful amateur owner/brewer is over and out."
He also suggests another result: "A less-appreciated result of industry decentralization is the evolving demolition of traditional beer media. The small breweries driving growth have embraced social media as a means of reaching consumers and creating buzz. Larger breweries that once supported traditional media are struggling and backing away, producing a significant shift from a few years ago when it was fashionable to support print publications."
Sure enough, Beer Advocate put an end date to its print publication last week; something that we already knew was going to happen, just not when. Editor Ben Keene talks about the implications in a Good Beer Hunting podcast.
To return to particular beers, those optimistic souls opening breweries are not planning to make beers that compete on price with whatever a 77-can case of Natural Light sells for. News that Constellation Brands selling its bargain-price wines to E. & J. Gallo matters because "the main story in this Gallo-Constellation deal is the story of premiumization, that contemporary coinage referring to the growing demand for higher-priced products. Over the last decade, sales of wine in the sub-$9 segment have consistently declined. Now Constellation is essentially abandoning that segment entirely, focusing instead on the higher-priced (i.e. above $11) wine brands it is retaining."
Haven't discussions about what people call craft beer always included premiumization?
History, respect, flagships.
Theresa McCulla posts an update on the American Brewing History Initiative, Tiah Edmunson-Morton shows what can be found in an archive, and Aaron Goldfarb insists that more beer drinkers today should know and respect that history. He also writes, "You don't need to like those old breweries. You don't need to drink their beers." I'm pretty sure the point of #FlagshipFebruary was to get consumers to drink as well as respect those beers. In any event, Jay Brooks reveals how #FlagshipFriday will work, and makes Lagunitas IPA the first entry. I seem to have volunteered for duty in May, and I have no idea what beer I might pick.
Rethinking juicy.
There may not be much in this story about how "beer is becoming more like juice" that hasn't been reported before, but this dispatch is for a non-beer geek audience.
Back to the coolship.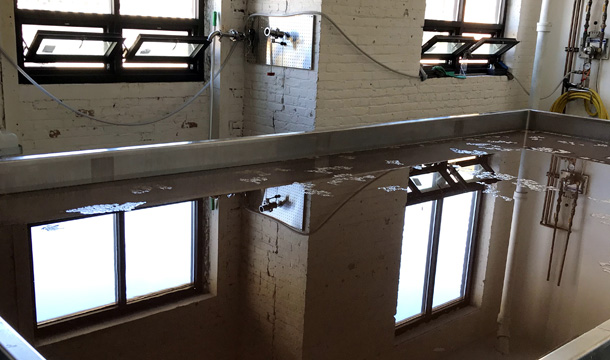 Such timing. "A Recipe for Disaster — How Lambic Continues to Redefine the Beer World" posted Tuesday while I was at Dovetail, and focused initially on the importance of process before microbes are invited to participate. I won't spoil the ending, instead simply repeating the tenet that Dutch botanist and microbiologist Lorens Baas Becking put forth in 1934: "Everything is everywhere, but the environment selects."
FROM TWITTER
I agree but I doubt it was a single "Eureka!" moment. It had to be hundreds of iterations and refinement. The hardest part would have been measuring success–ie how efficient the extract was, not whether the resulting beer tasted better, which I'm sure they did too

— Mr Dyspeptic (@katzenbrau) April 5, 2019
MORE LINKS
ReadBeer, every day.
Alan McLeod, most Thursdays.
Good Beer Hunting's Read Look Drink, most Fridays.
Boak & Bailey, most Saturdays.