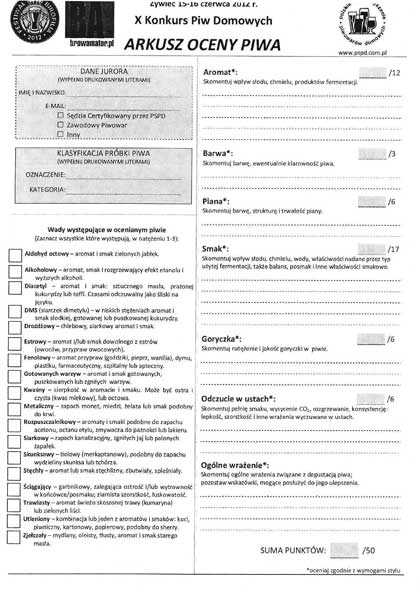 Quick disclaimer: This post won't be an in-depth discussion about bitterness itself, IBU, quality of bitterness or something similar. I just wanted to use goryczka in a headline. Instead, this is a copy of the beer competition scoresheet used by the Polish Homebrewers Association. It is similar to a Beer Judge Certification Program (BJCP) scoresheet, but the differences are interesting.
Obviously it is in Polish. Because they are good hosts, the Polish homebrewers also provided an English version for English-speaking judges (or German speakers who also spoke English, etc.) last month during the X-th Konkurs Piw Domowych (National Homebrew Competition) held at the Zywiec Brewery.
Should you not want to toggle back and forth between the two, here's how they compare:
| | | |
| --- | --- | --- |
| | BJCP | Polish |
| Aroma/Aromat | 12 | 12 |
| Appearance/- | 3 | – |
| Color/Barwa | – | 3 |
| Foam/Plana | – | 6 |
| Flavor/Smak | 20 | 17 |
| Mouthfeel/Odcsucie w ustach | 5 | 6 |
| Bitterness/Goryczka | – | 6 |
| Overall/Ogólne wraženie | 10 | – |
Both scoresheets list (on the left) possible flaws, but on the BJCP sheet judges simply check the boxes when those are present while in Poland they rate the intensity.
The key additions in Poland are foam (color, structure, quality, meaning volume, stability and cling) and bitterness (the intensity and quality of the bitterness).
For the record, like style guidelines these scoresheets are designed for beer competitions, not real life. Taking them outside that environment can lead to long, meaningless arguments discussions. However the influence of the BJCP sheet on the scoring matrix at RateBeer (Aroma 10, Appearance 5, Taste 10, Palate 5, Overall 20) should be obvious and the cultural impact of beer rating sites internationally cannot be understated.
They've got at least a few people talking about beer in a way they weren't before. Personally, I like foam and I like bitterness. I'd be happy to see them be part of the conversation.