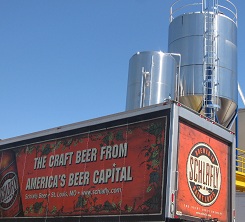 If you'd like to see what my head looks like on a platter, you might try to reconstruct1 the happenings on Twitter last week when I naively noted: "Sorry, but it seems strange to call an unconfirmed rumor one of the 'Top 5 beer stories'" of the year'" along with this link.
Because this was the final post in a multi-part series, I hadn't seen the first, which included a bit of an explanation: What follows is a list of stories that either resonated with Beernews.org readers or got coverage in the mainstream media. I guess I should have understood the story wasn't just the substance of what Anthony Bourdain suggested — that "Big beer" was responsible for Discovery Channel pulling the plug on the Brew Masters program — but that he tweeted it and it got retweeted. A lot. This was made clear to me.
(In this case, my vision was clouded by the fact that Bourdain's2 tweet was as stupid as if he had typed "Harwood invented porter"3 and considerably more irresponsible. That's really an aside, but I did a lousy job of explaining myself in the 140-character exchanges that followed.)
I'm not oblivious to the importance of social media (even though I might appear clueless trying to balance Twitter, Facebook and Google+), nor the importance of what proceeded these virtual water coolers — water coolers themselves. I worked at newspapers back when people spent enough time with them in the morning to get their hands inky black. I sat in on a dozen meetings a week during which we debated how and where to display stories that were "important" versus those that people were talking about around the water cooler.
These days there are ways for people to talk about stuff they really care about that didn't exist before, and ways to track/measure those conversations. Is following them pandering or simply remembering the news consuming public ultimately decides what is news? That's a discussion for another space. As well as one about what is news? or even what is beer news?
OK, a bit more about the last one, and a quick example of what one day can bring. Saint Louis Brewery founders Tom Schlafly and Dan Kopman announced last Wednesday that a group of local investors had bought a 60 percent (thus, controlling) interest in the brewery. This was not a surprise, because they said more than a year ago they were looking for buyers, and wanted the brewery to remain locally owned. The big picture news will come when we find out if the new owners plan to build another brewery, since the current one (pictured at the top) is at capacity. The same day, Paul Harden at The Wine and Cheese Place posted a note he had received a shipment of Firestone Walker Union Jack that had been bottled only a week before. That's fresh IPA a 20-minute walk from my house. One a short term basis, just as big.
Coincidentally, a few days before I considered what do people read? from a different perspective. Because I spent not as much time around here the second half of December, rather than dumping comments Akismet flagged as spam on a daily basis I got to them every three days or so. There's something startling about seeing 10,000 comments from users calling themselves names like acai berry pure, ugg and stealth hid pile up in less than three days. In the course of looking to see if there was any rhyme or reason to what posts attracted such love I ended up with a semi-accurate list of 2011 most popular posts. And no clue about the spammers.
The list is not perfect, because some/many of you read these posts via a feedreader, some when they are fresh, some when they are older. I'm too lazy to sort that out. You might notice some of the best read stuff is from years past. I'm not sure how I should feel about that.
Anyway, the list:
10. What the heck is a nano brewery?
9. Book review: Tasting Beer.
8. Pierre Celis: That was one long shadow.
7. So Americans no longer drink Budweiser?
6. 10 beers that changed America.
5. Who is the world's most influential beer writer?
4. Blue Moon: Peter, Paul & Mary or Trini Lopez?
3. Reinheitsgebot or Einheitsgebot?
2. The beer that launched 1,600 breweries.
1. Session #49 – Regular beers are part of the revolution.
1 I should probably be able to do that for you, but I blame cognitive failure, being well past 45 years old.
2 That's not to say I don't find Bourdain entertaining. How can you not like a guy who appreciates Louisiana as much as he does? I'd be happy to spend a drunken afternoon with him.
3 See The Oxford Companion to Beer: a dreadful disaster? and scroll down to Harwood.