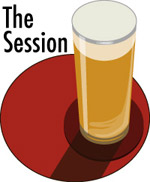 Pete Brown didn't waste any time rounding up The Session #63: The Beer Moment. You might waste a little of your own once you start in on the lot; in total, pretty dang thoughtful.
And as this exchange indicates, a topic that begged to be discussed over a beer.
Alan McLeod: "There is no beer moment. There are moments. In life. In your life. Beer does not change the moment even when it is present within it. Don't let the ad men fool you."
Pete Brown: "If advertising were as powerful as Alan thinks it is, every last one of you would now be drinking Budweiser and Stella Artois, and nothing else. And you wouldn't be as happy with beer as you obviously are. Talking about the context, the emotions and the companionship, does NOT mean you don't care about what you drink – as many commenters have pointed out. It simply means that beer is one part of a healthy, joyful life – unless you're someone who would just rather sit and analyze and deconstruct beer instead."
I spent probably too much time at the just completed Craft Brewers Conference in conversations of deconstruction, but the single best one had nothing to do with beer. Just now reading the various Session posts I could only think, Alan's right because it was simply a moment that would have been no different if I hadn't had a beer in my hand. And I thought, Pete's right because I did have a beer in my hand.
Now a James McMurtry lyric is dancing in my head: "I don't want another drink, I only want that last one again."
In this case that moment. I couldn't tell you what I was drinking.