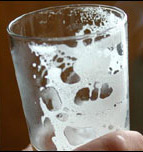 NEW BEER RULE #6: The best beer was in the empty glass.
This rule came from a conversation with Matt Trevisan of Paso Robles winery Linne Calodo for an upcoming story, and he was explaining how he blends wines.
"I start with five glasses and I pick the emptiest one," he said. "In the end you want the blend that you keeping going back to."
Trevisan sat in on the blending session last year when Paso Robles winemakers helped the brewers at Firestone Walker assemble the highly acclaimed Firestone 10.
"I told them they didn't have to sit there and pick it apart to find the best one," Trevisan said, offering advice that works for wine or beer. "You didn't necessarily want the one you had the most to say about. Ultimately it's a beverage to enjoy."
How you use this rule is up to you. But I think it is a pretty good excuse to haul a treasured beer out of the cellar even though you know you'll never be able to replace it, or a reason to spend a little bit more for a bottle.
All the New Beer Rules.