MONDAY BEER LINKS, MUSING 01.26.15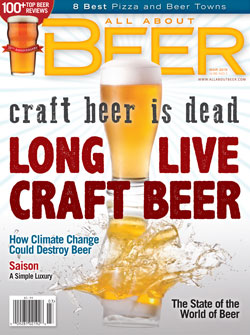 A Single Word: The Case for Beer.
At the outset of 1997, in his regularly appearing column in All About Beer Fred Eckhardt asked the question, "What is 'craft beer'?" It was a topic discussed often by brewers that seldom showed up in print. In fact, in the first of a lengthy two-part interview with Charlie Papazian and Michael Jackson about the past the future of beer included in the same issue as Eckhardt's column and the words craft and beer never appeared in tandem.
It was possible then and it is possible now to write about beer without using the term "craft beer." In his column in the 35th anniversary issue of the magazine landing in mailboxes right now, editor John Holl explains why the magazine is now (and has been for about a year) using a single word — beer or brewery — whenever possible. It doesn't mean you'll never see the term "craft beer" in All About Beer. There are times it is useful. When writing here I always ask myself if the adjective "craft" is necessary, and sometimes I include it. I wrote an article for the 35th anniversary issue about the etymology of the term. My brain is still recovering from the research. [Via All About Beer]
A-B To Buy Brand With Tagline: 'Corporate Beer Still Sucks'.
Elysian and AB/InBev: Greed, Overweening Ambition, and the Whoring-Out of a Culture.
Why AB is Buying Up Craft Breweries … and Why You Shouldn't Be Too Concerned.
Will this continue all year — a big story every week that lights up social media, discussion boards? [Via Ad Age, Beeronomics, and The Pour Fool]
The PC: Ripped straight from the pages of an Onion satire: "13 white males not really so eager to discuss issues like racism and sexism."
When Roger Baylor speaks his mind it often is not possible to offer a concise summary. Just go read. [Via the Potable Curmudgeon]
Faith Seidenberg, 91, Dies; Took On McSorley's, an All-Male Haven.
"One frigid January night in 1969, Faith Seidenberg vividly recalled a few years later, she and another woman, shivering 'as much from fear as from the cold,' boldly swung open the double doors of McSorley's Old Ale House in Manhattan, which 'had withstood for 115 years the entry of female customers.'" It did that night as well, but not for much longer. [Via New York Times]
Why Beer Experts (Don't) Matter.
Bryan Roth adds some perspective to last week's discussion about experts and expertise, in a polite way. "The impetus for this piece, as I point out early on, is simply to provide another viewpoint that still ends at what I consider the same finish line." [This Is Why I'm Drunk]
Research report: hop picker wages in the 1930s & 1940s.
Labor shortages are becoming an issue for hop farmers in the Northwest. When I visited the Oregon Hops & Brewing Archives last summer, Tiah Edmudson-Morton and I talked about it would be great if somebody did an in depth study of hop picking labor practices. Just a suggestion for those of you dying to write something I want to read. [Via the Brewstorian]