This was written in July 2002
Talk about making mistakes you can learn from. We were two beers and one wine into a beer and wine tasting at Rio Chama Steakhouse in Santa Fe, N.M. Next up were to be La Folie beer from New Belgium Brewing Co. and a 1995 Cabernet Sauvignon from Santa Fe Vineyards.
Backing up a bit: The premise of the afternoon was to sample beer and wine at the same table, with the beers ones that are sold in corked 750ml (wine-size) bottles and that are clearly not ordinary. The tasters were all members of the wine and restaurant industry in Santa Fe.
The idea for the gathering came from a conversation with Mark Matheson – who brews beer at Turtle Mountain Brewing Co. in Rio Rancho and makes wine at Santa Fe Vineyards – about beers that include grapes as an ingredient.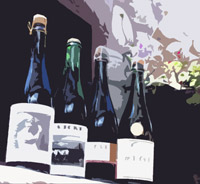 "If you taste a beer and then a wine, you're going to notice a totally different structure," he said. "But you also get some of the same flavors, things about the two that are the same."
In fact, only one of the beers in the "official" tasting, the Port 15th Anniversary Ale, was made with grapes, although we had Midas Touch from Dogfish Head Brewing in Delaware to finish off the afternoon.
Back to the La Folie and Cab. Tom Peters of Monk's Cafe in Philadelphia likes to talk about introducing wine drinkers who say they don't like beer to beer they do like by pouring them a glass of Rodenbach from Belgium. La Folie, which is available only at New Belgium's brewery in Fort Collins, Colo., is a very similar beer.
We popped the cork on the La Folie, glasses were poured and smiles went away. "Everything you have off in beer and wine you have in this," Matheson said.
"This is an acquired taste, right?" said Phil Effenbeck, who runs the tasting room at Santa Fe Vineyards.
"You'd have to have some food with this," said Rio Chama general manager Jim Hargrove. "I just don't know what it would be."
The lesson is not to serve a beer laced with brettanomyces to a bunch of guys who know when they open a bottle of wine and get a whiff of "brett" they've got a spoiled bottle, and they'll soon be buying the customer a new bottle of wine. Beyond this little setback, the afternoon reinforced the idea that despite an old adage that grape and grain don't mix (the adage refers mostly to taking steps to avoid a hangover), wine guys and beer guys get along just fine.
We didn't talk about "legs" (mostly a wine term) or "attenuation" (beer talk) but more generally about flavor, and about how customers order beer or wine. Jordan Dilts, who does the wine buying and advises customer at La Casa Sena – a Wine Spectator "Best of Award of Excellence" winner with more than 1,000 different wines – treats wine and beer questions much the same.
"I start by asking them what they like, I want to get the direction from them," he said, talking first about wine. "The last thing I want is to sell somebody a bottle for $75 and have them walking out hating it."
His restaurant offers only bottled beer, and New Mexico beers from Santa Fe Brewing and Sierra Blanca sell particularly well. "I try to get a descriptor from the customer," Dilts said. "And I have to find out what they consider dark."
For the record, the beers we tasted were Southampton Biere de Garde from Southampton Publick House on Long Island, Golden Monkey from Victory Brewing Co. in Pennsylvania, the La Folie, 90-Minute IPA from Dogfish Head, and Port 15th Anniversary Ale from Pizza Port Solana Beach Brewery in California.
All provoked discussion. "It's bread," Hargrove said at the first whiff of the Biere de Garde. Brewer Phil Markowski – who operates in the midst of more than 30 vineyards and has made a beer using grapes – worried the wine experts would be bothered by some corkiness in the beer. "A little musty," Effenbeck said, "but not in an unpleasant way."
Perhaps it was chance, but the star of the afternoon was the beer made with grapes. Pizza Port brewers Tomme Arthur and Jeff Bagby brewed the beer in the fall of 2001 for a spring celebration of the 15th anniversary of the opening of Pizza Port in Solana Beach.
The beer is a strong ale fermented from 1.080 to 1.008, then finished with grapes. "The goal was to get a port quality," said Arthur. The beer was fermented with a saison yeast, then aged in American oak barrels. Some of the beer was blended in oak with grape juice (Carignane grapes) and fermented a second time with cabernet wine yeast.
"Whoo," Effenbeck said, letting out a deep sigh. "I've never had anything like this."
"I wonder if I could keep it on gas," Dilts said, referring to how La Casa Sena dispenses wine sold by the glass. His mother lives not far from Solana Beach (the beer is sold only at Pizza Port, for $10 a bottle). "If your mom is going, let me know so she can pick me up some," Hargrove said.
"I'm going to call her on the way out," Dilts told him.
What might all of this teach you about how to get your wine-loving friends to consider a wine and beer tasting, or even a beer-only tasting? It's easier if you choose beers with an interesting story behind them. This crowd was fascinated to learn how Dogfish Head continuously adds hops in the 90-Minute IPA.
They also liked interesting beers. "What a creamy texture," Effenbeck said of the Golden Monkey, a spicy Belgian tripel. "This is a beer for people who like oaky chardonnay," Dilts added.
It doesn't hurt to consider such things as well. Try to find a beer with similar flavors to those a friend prefers in wine. But don't make it as simple as comparing colors. There are a several of "this wine-this beer" lists out there – some so detailed as to suggest particular varieties of grapes. But one Michael Jackson put together for his Beer Companion is nicely general and specific at the same time (the wine is listed first):
Dry white: an authentic, hoppy pilsner.

Gewürztraminer: a spicy, malty Vienna-style lager, or a darker Munich-style lager.

Champagne: a wheat beer.

Blush Zinfandel or pink champagne: a framboise.

Cabernet Sauvignon: a fruity English-style ale, or an oaky American India Pale Ale.

Pinot Noir: a richer Scottish or Belgian ale.

Fino sherry: a lambic.

Amontillado sherry: a porter or dry stout.

Port: a dark Trappist ale, with some bottle-age.