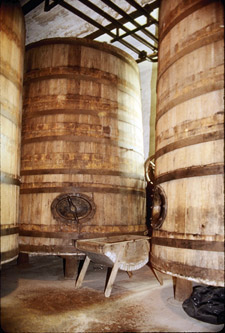 You already knew this, but this beer in wood thing isn't exactly new. For centuries brewers fermented and conditioned their beer in wood because they had no alternative.
And some didn't quit that long ago.
Wisconsin and Minnesota newspapers are carrying a story about the challenge the the Wisconsin Historical Society has in figuring out what to do with a couple of 100-barrel (3,100 gallons) casks donated by Stevens Point Brewery in Steven Point. Some were used until 1995.
Stevens Point Brewery had 28 "vats" in various sizes to get rid of when it switched from wood to steel. Some were converted into hot tubs or pizza ovens.
Dixie Brewing in New Orleans was still still aging some of its beer in 1912-vintage Cyprus wood tanks until Hurricane Katrina shut down the brewery in 2005. Dixie is rebuilding, but it seems unlikely the tanks will be used again. Dixie only phased out its wooden fermenters in 1987.
The photo at the top was taken in Bube's Brewery in Mount Joy, Pa., in 1995 – before a microbrewery opened within the complex. I came across these wooden fermenters when I walked through an unmarked door in the basement. I'm not sure if you can visit this area these days. (Perhaps Lew Bryson can tell us).
Back to Wisconsin, where the story is about the challenge Joe Kapler, museum curator for the historical society, faced in finding a place to store two 9-foot-by-8-foot vats.
In the long run they will be displayed at the historical society in Madison in an exhibition on beer-making.
"You can talk until you're blue in the face about the history of brewing in Wisconsin, and words and images are indispensable. But objects, in their intimacy, or their scale in this case, help people connect with things on a tactile level," he said.
"Just having these two objects will go a long way in telling the story."
Beer history. Preserve when you have a chance.