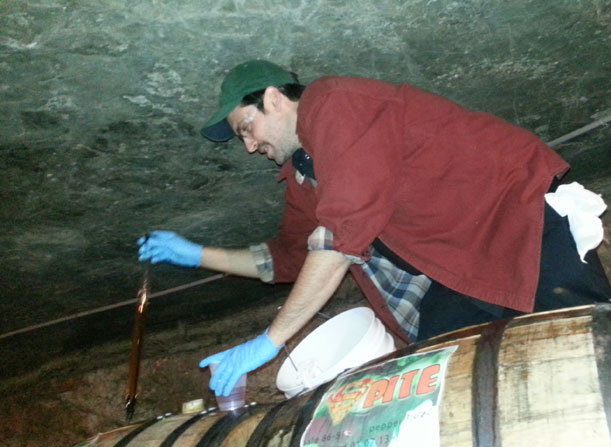 Meet Jason Heystek. His business card identifies him as head cellarman and lead guitar at Founders Brewing.
He's also the guy in charge of barrels at Founders, the Michigan brewery that stirred up the Internet this week by announcing a it would sell a 30 percent of its company to a Spanish brewery.
In a follow up story, Founders CEO Mike Stevens said, "We were looking for someone who truly understood the soul (of) this brand."
Which implies they damn well want to retain that soul. How will that work out? I'm making no predictions. I'm not very good at them. Remember Session #67 (the one in which we predicted how many breweries would be operating in 2017)? I typed 2,620, a number far too distant to see in the rear view mirror to see any more.
A bigger deal than who in what country owns what percentage of the brewery — it matters to some people, and in a perfectly valid way, but that is a different discussion — are the plans to make a lot more beer. Three years ago Founders brewed 41,000 barrels and soon the brewery will have the capacity to make 900,000 barrels. There's no guarantee they'll reach that target, but they've shoved a lot of chips on the table. And they did that before striking the deal with Mahou San Miguel.
It's a whole different scale. It took some doing, but they figured out a way to scale up production of Breakfast Stout, and All Day IPA is a powerful endorsement for investing a million dollars in a Krones canning line. Quality isn't easy, but maybe it is the easy part. We start talking about soul when we starting considering the connection Founders has established with its customers.
Stevens understands this. When they announced this expansion that will cost $40 million just earlier this month Stevens said it would have been easier to build a new brewery in the suburbs than shoehorn an expansion onto its crowded downtown site. "It's important to us ultimately to stay downtown, to stay in Grand Rapids," he said. "Grand Rapids is where we started our business. We've been growing in Grand Rapids. My partner and me were born and raised in Grand Rapids."
Barrel aged beers are part of that connection. They aren't as easy to scale up. Sure, there's plenty of room for barrels at Michigan Natural Storage, a former gypsum mine with six miles of tunnels. And, sure, Goose Island Beer Co. has done a pretty astonishing job of scaling up production of Bourbon County Stout, and its variations. Once again, sure, almost nobody who drinks the barrel aged beers from Founders knows that Heystek climbs around on top of the barrels, checking the progress of the wide variety of beers he puts in them. And, by golly, they pass the place test — brewed downtown and hauled three miles to the same place as always to age.
But there's something different. Maybe not something you'd taste "blind." Maybe you need to have met Jason Heystek — a constantly funny guy who is flat out serious about Founders beer. I'm pretty sure a lot of people in Grand Rapids have.
When you're alone and life is making you lonely
You can always go downtown
When you've got worries, all the noise and the hurry
Seems to help, I know, downtown
– From "Downtown" (Written by Tony Hatch, sung by Petula Clark)