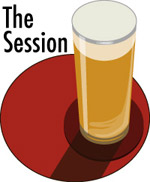 Host Mark Ciocco has announced the theme for The Session #105 will be Double Feature and there will be no shaking of the head and muttering, "How do I write about that?" He provides a record number of possible approaches.
The basics:
So your mission, should you choose to accept it, is to drink two beers, compare and contrast. No need for slavish tasting notes, but if you want to, that's fine too. The important part is to highlight how the two beers interact with one another during your session (pun intended!) For extra credit, pair your beers with two films to make your own Double Feature. Now, I'm a big tent kinda guy, so feel free to stretch this premise to its breaking point. The possibilities are endless!
On the fun scale, this round of The Session looks to be right at the top.