The New Scientist tells its readers: "Next time you are organizing a cheese and wine party, don't waste your money on quality wine. Cheese masks the subtle flavors that mark out a good wine, so your guests won't be able to tell that you are serving them cheap stuff."
Of course, we can tell you something that will stand up to flavorful cheese, but more on that in a moment.
Decanter magazine – the prestigious British wine publication – has a great lead on its version ofo the story, beginning "to some, it will be like saying Fred Astaire and Ginger Rogers were out of step. But new research has revealed that cheese and wine do not make the perfect pair."
Then it gets to the truth, noting:
Despite debunking the tradition, the news does not come as a shock to those in the business of wine and food matching.

"What amuses me is that people need scientists to tell them this," said Decanter contributing editor and leading food and wine writer, Fiona Beckett. "Anyone who actually enjoys their wine will know that cheese will ruin their favorite wine."

Beckett, who runs her own website on food and wine matching, said that wine lovers should pick one or two cheeses to have with their wine and not plump for a wide selection.
So what's the alternative when you want to serve a wide range of cheeses? Flavorful beer, of course.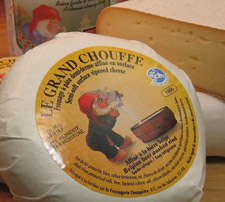 Last year, Janet Fletcher of the San Francisco Chronicle tackled the subject, writing: "After several weeks of 'research,' including two marathon tastings, I'm convinced that beer as a partner for cheese rarely stumbles."
She talked to Garrett Oliver, Brooklyn Brewery brewmaster and author: "With wine, you're almost always working just with contrasts. That's not as satisfying as also working in some harmonies," he said.
Lucy Saunders, a Wisconsin-based beer writer, also offered advice. "It's useful to think in terms of four things: hops bitterness; malt sweetness or breadiness; the level of carbonation, and extra flavors added to the beer," she said.
Several years ago, Saunders worked with Wisconsin's Milk Marketing Board on its 16-page full color "Sampler's Guide To Wisconsin Specialty Cheese and Craft Beer." The pamphlet featured tips on pairing beer and cheese, tasting tips and recipes.
Some of the suggested pairings:
– Mascarpone, a soft Italian-style cheese, with a Belgian-style Saison. The tangy beer will contrast nicely with buttery richness of the Mascarpone.
– Fresh Mozzarella and and a dark lager. Another nice contrast: In this case dark malts and sweet dairy flavors.
– Monteray Jack with Jalapeno and a bottle-conditioned winter warmer. A big, malty beer will stand up well to the hot peppers and Monterey Jack. A great combo in front of a roaring fire.
– Smoked Gouda and bock beer. Another beer for cool days, smooth yet with enough toastiness to take on the mild smokiness of the cheese.
– Gruyere and witbier. The spices of the Belgian white beer – coriander, orange peels and other 'secret" choices – should meld well with the earthy, nutty Gruyere. Substitute Swiss cheese if you want.
– Aged Cheddar and stout. A big stout, with lots of chocolate and black malts so that it hints of coffee, should be handle the the complexity of a well aged, still sharp Cheddar.