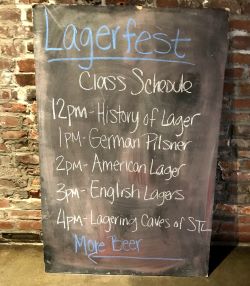 Here's a game we used to play here 10 years ago, when people chatted in blog comments as often as on Twitter. Now it is a question asked more often on Twitter, but that takes a patience for following divergent threads I don't have.
The goal is to identify the outlier and explain why it doesn't belong on the list. There may be more than one answer, although I happen to have a specific one in mind.
I'll be back Monday, shrug when I find nobody has left a comment and provide my answer, along with the reason I asked the question to begin with.
All five of these breweries made beer for the Urban Chestnut Brewing Company's LagerFest in 2018. But there is something (recently) different about one of them.
a) Bierstadt Lagerhaus Brewery
b) Olde Mecklenburg Brewery
c) Live Oak Brewing
d) Dovetail Brewery
e) Urban Chestnut Brewing
March 1: The answer is Olde Mecklenburg. Here's the reason why.