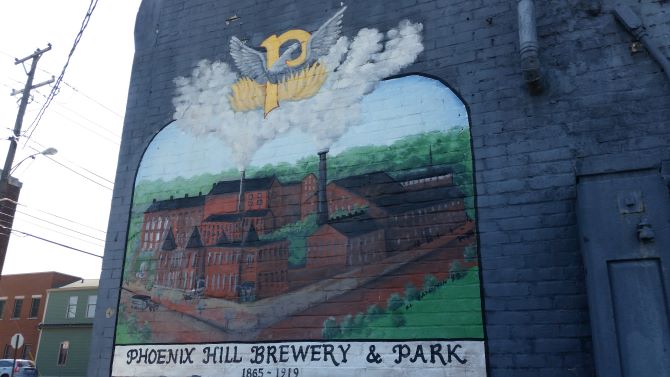 A mural in Louisville commemorates Phoenix Hill Brewery & Park. The brewery made plenty of lagers and also Phoenix Komon Beer.
Recall that when Michael Jackson wrote "The World Guide to Beer" in 1977 he listed 23 classic beer styles. The Brewers Association added four more to its already somewhat lengthier style guidelines Tuesday.
Perhaps Kentucky Common was the veterans committee's choice.
I wrote quite a bit about this in "Brewing Local" (you should buy a copy) and also here in the blog. So I will keep this brief.
The beer was so specific to a place it could have been called Louisville Common rather than Kentucky Common. In 1909, a glowing description appeared in The Louisville Anzieger, a German-language newspaper. The translation:
"Beer has conquered the world. But one thinks . . . that this refers to lager beer. In Louisville, however, the beer drinker can enjoy double pleasure, as they can along with the lager beer enjoy the 'common beer,' a really great and increasingly popular product. It is a healthful, light, pleasant drink that people in other large American cities are for the most part unaware of. Perhaps its popularity, which it has always enjoyed here, would not be as great if, with improved brewing methods, better stuff had not become available."
To this I'll add something from Dibbs Harting, a homebrewer who was central to getting the history of Kentucky Common right, told me in 2015.
"I'm sure it was a fabulous bucket (growler) beer,"