Yes, back-to-back posts related to Nordic farmhouse brewing. (The first.)
Events are planned in Chicago and Toronto showcasing beers brewed with kveik (which is a yeast, not a beer style) and author and beer anthropologist Lars Garshol, who has introduced brewers previously influenced by German/Czech/Belgian/English traditions to one they barely knew existed.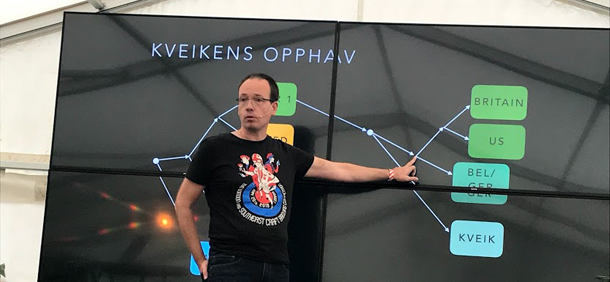 Lars Garshol points out where kveik belongs on the family tree of yeast during a talk at the Bergen Ølfestival last September.
Burnt City Brewing in Chicago will host the Inaugural Kveik Fest Sept. 7. Three days later, Garshol will appear at Kveikstokk in Toronto.
Appropriately, Kveik Fest is sponsored by Omega Yeast, which made kveik strains available in the U.S. more than two years ago. The one-day invitational will include traditional and experimental beers fermented with kveik from 30 Chicago-area and national brewers. Tickets are $75.
"Kveik is particularly exciting to so many brewers because it contributes great combinations of flavors to beer and is extremely versatile when it comes to brewing different styles," Ben Saller, head brewer at Burnt City, said for a press release. "Once we started experimenting with the Norwegian yeast strains available from Omega Yeast in the past couple of years, we soon had this idea to design an event around highlighting yeast as an ingredient. Creatively, there's so much that can be done with kveik and the range of citrus and tropical flavors and aromas it can bring to the table."
Escarpment Labs, which funded sequencing of kveik strains and helped establish that they are genetically distinct, and Burdock Brewery will host Kveikstokk. Garshol will be talk about his travels in Norway, documenting the living farmhouse brewing traditions as well as some of the special ingredients in use. There will be kveik-fermented beers on tap brewed by Burdock, Escarpment Labs and friends. Tickets are $25.