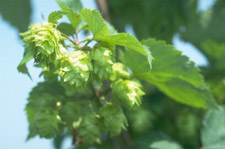 The Wall Street Journal has a feature today on fresh hop beers. (it's a subscription site, but the Pittsburgh Post-Gazette has a version of the story that works in a pinch).
The story alone is good enough reason to pick up WSJ if you don't subscribe. One highlight:
The hop infatuation has resulted in a game of chicken among brewers, who have continued their effort to out-bitter the next guy – as evidenced by beer labels that boast mixed hops, extra hops or triple hops. Stone Brewing Co. in Escondido, Calif., calls its Stone Ruination India Pale Ale "a liquid poem to the glory of the hop!" Delaware's Dogfish Head has pioneered a pair of hop-enhancing technologies, including a "continuous hopping machine" that adds hops gradually over up to two hours of brewing instead of throwing some in at the beginning, middle and end, as is customary. The brewery also invented a method for delivering a final hoppy hit to kegged beer by running it through a hop-stuffed chamber before it hits the pint glass. Dogfish Head calls the device Randall the Enamel Animal, and some bars and beer stores have also started serving "Randalled" beers.
As much as I enjoy geeky hop talk – let's argue for a moment about if the importance of co-humulone level is overrated – this is a terrific story because it gives the average person an idea of why the flavors are different in such beers.
Randy Mosher, a beer author and instructor at Siebel Institute of Technology, a Chicago brewing school, says there's little historical precedent for using hops within a few hours of picking. "What people are trying to do with craft beer is put people in touch with their food again, and remind them that they're drinking an agricultural product," he says.
Since it is popular sport in the beer press to pick on factual problems with stories from the non-beer press, kudos to this story for reaching out to both the hop experienced and beer novice.
A fresh-hop beer can often, in fact, be less bitter than a corresponding version with dried hops, and instead is powered by floral, citrus tastes. The retained oils line the inside of the mouth and have a tinge of greenish, vegetal flavors. (Many brewers recommend drinking their wet hops with a glass of water.) It's easy to taste the difference between a normal brew and a fresh-hop version — though that isn't always a good thing. "If you're not careful you can end up with a beer that tastes like lawn clippings," says Garrett Oliver, brewmaster at Brooklyn Brewery.
At the end it notes Dorothy J. Gaiter and John Brecher's Tastings column will return to this space on Sept. 8, indicating this story ran in place of one of the best – and best-read – wine columns in the country. It was written with similar sophistication, the sort of approach that wine afficiandos who talk about "hang time" expect.