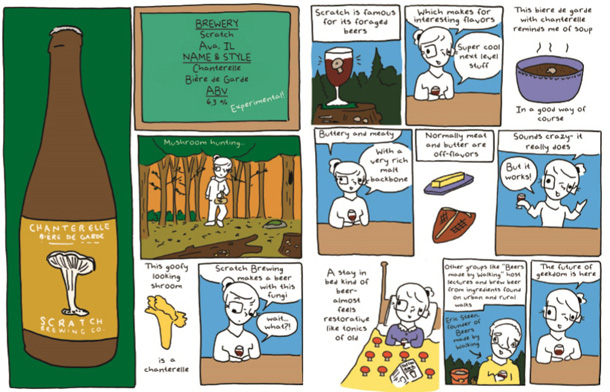 Once you've condensed what might be an entire post to a blurb that fits on the back of a book it may not rehydrate easily, not even with a healthy dose of beer.
So this is what I wrote about Beer is for Everyone!:
"The value of a fresh pair of eyes — or in this case a fresh pair of glasses — is apparent on basically every page. The author, who doubles as protagonist, foregoes making beer formidable and instead invites a newcomer to be comfortable. To adapt a line from page 89, 'This book was meant for fun.' " I wish that I had included Jay Brooks' suggestion that "it won't be until later that you realize how much you learned about beer."
But I think what remains most important is that the book is just plain fun. Author/artist Em Sauter is plenty serious about beer, which is obvious when her character speaks objectively about beer and brewing. It is equally obvious when she speaks subjectively. For example, see pages 104 and 105, where she describes Firestone Walker Pivo. "The beer bombards the senses in an utterly wonderful way. Bready. Spicy. Floral. Woody." (Appropriate artwork accompanies the words.)
She also offers pairing suggestions: "From sushi to swiss cheese." No surprise there. But then comes this: "Or from karate to knitting." Not the way I'd think about Pivo, and maybe something that doesn't even make sense to me. That's fine. A discussion about the need for different voices broke out a while back. Listen to one of those voices.
The rehydration of thought stops there, but for more about what is in the book, and additional pages, see what Jeff Alworth had to say.