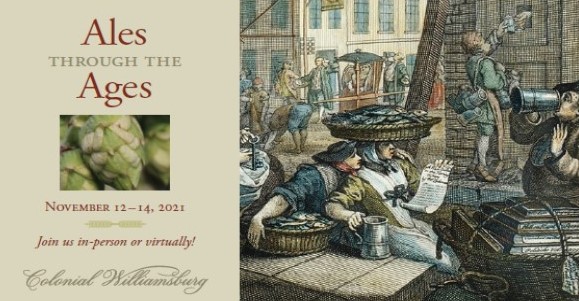 Martyn Cornell will be talking about the origin of pale ale, from Sumeria via Norway.
Ron Pattinson will discuss the transformative story of UK brewing during World War I.
Pete Brown is giving the keynote address.
In person, in Colonial Williamsburg, Virginia, November 12-14.
Could there be a better reason to get vaccinated?
Registration is open now for 50 in-person attendees and an unlimited amount of virtual attendees. As more people are vaccinated, and travel and other restrictions ease, more in-person spots may open up. I certainly hope so. The first Ales Through the Ages in 2016 (read Cornell's recap) would not have been as much fun without a larger audience.
Learn more about the conference here, links to register and the full list of speakers included.
(A bit of disclosure: I'll be among the speakers, and the conference will pay for my travel and lodging, as well as providing an honorarium.)