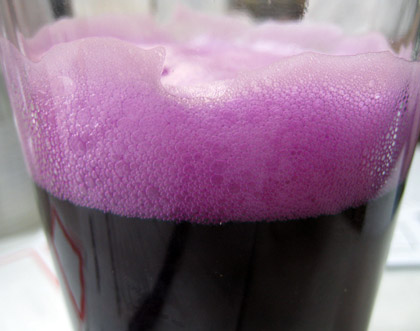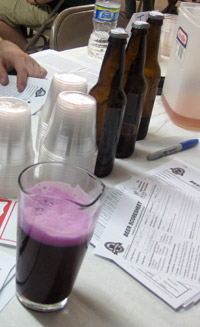 This is what can happen when you judge in beer competitions, particularly homebrewed beer. The beer pictured here is a Prickly Pear Wit. Although Pierre Celis, the Belgian who resurrected the dead Belgian White or Wit style, later moved to Texas, founded the Celis Brewery and took to wearing a bolo tie was an inventive guy no proof exists he thought of brewing a beer with the fruit of prickly pear cactus.
We have a lot of prickly pear in New Mexico, so folks make wine with the reddish fruit, use it in mead and I've previously had a prickly pear pale ale.
But never a wit. Until Saturday morning. We were judging fruit beers in the New Mexico State Fair Pro-Am competition, amateur division. Just finished back-to-back cherry Berliner Weisse beers. The note with this entry said the beer contained no artificial coloring. Wow.
Alas, this might not have been the best brewing idea ever. When prickly pear meets wit the wit flavors get run over.
But the execution was better than in the afternoon, when I sat on a panel that judged a Prickly Pear Lambic. This was from a commercial brewery (judged blind so I have no idea what one, but bless their heart for trying.) Prickly Pear meets vinegar (acetobacter), nobody wins.
Don't you wish you were a beer judge?