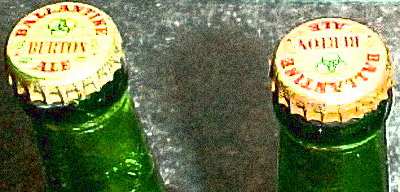 Well, I guess he first question is if you'd pay $200 for a bottle of beer.
That's because eight bottles of Ballantine Burton Christmas Ale are up for auction at eBay. The starting bid is $1,500 (none as I type), the "buy it now price" is $5,000 and the auction closes May 28.
From the auction description:
The labels state that the ale was brewed for Edward Boghosian on May 12, 1946. Seven (7) of these were bottled in November 1960 and one (1) was bottled in November 1959.

This ale was never sold to the general public and only given to special celebs, friends and employees during the Christmas season. This batch was made for a local Rhode Island TV executive. The bottles are all intact and in overall excellent condition. Some labels may be a little loose and a few caps have some oxidization. Please refer to photos.

I auctioned off one Ballantine Burton ale bottle a few weeks ago for $130+. I was able to recently obtain the remainder of the bottles which are now being auctioned off here. There are no further bottles available once these are gone.
As any Internet search will show you, these Ballantine bottles have a well deserved reputation. Back in 1994, Steve Kemper wrote a story for BeeR the Magazine titled "Pub Crawling New York with the Beer King" detailing in evening spent in several of Manhattan's historic barrooms with the late Alan Eames.
They finished at Bahama Mama, where Eames had a bottle of Ballantine Burton Ale delivered to the table. That particular beer had been aged in wood from 1946 until 1966 and had been in the bottle for 25 years. After Eames explained how he came to own the bottle, he said: "This is the Dom Perignon '55 of beers, and God sent it to me."
Another beer in that lot he came across sold for $400, and Eames suggested the one they opened could be the last bottle in existence. He was wrong about that, because the bottles keep showing up. But eight at one time, and with a display box, should take your breath away (and your pocketbook if you intend to own the lot).
From the story: "He poured. The color was coppery, the head fleecy and alive. We tasted. Eames moaned with joy. I joined him in chorus. The ale tasted of wood and caramel and roasted grain and humus. Our please was complicated by the pain of loss that always accompanies the impeding disappearance of something fine. Eames poured out the last of it, and we drank."
You may recall that eBay briefly outlawed selling vintage beer, then relented by setting forth several rules, starting with "The value of the item is in the collectible container, not its contents."
Perhaps. But we all want to know what the beer inside tastes like. What the heck – if you bought eight bottles it wouldn't hurt to open one.
Added May 29: The auction closed without any bids.