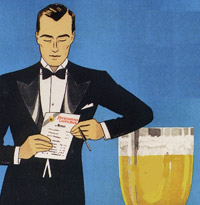 Now some Monday afternoon musing (because I just came across this).
This is how the Times Online leads the story: "Restaurants charging inflated prices for wine could be doing their customers a favour. A study has found that people who pay more for a product do enjoy it more."
This was in fact serious research at the California Institute of Technology in which scientists tested how marketing shapes consumers' perceptions and whether it also enhances their enjoyment of a product.
They asked 21 volunteers to sample five different bottles of cabernet sauvignon and rate their taste preferences. Without telling the volunteers, the researchers presented two of the wines twice, once with the true price tag, and again with a fake one. They passed off a $90 bottle of cabernet sauvignon as a $10 bottle, and presented a $5 bottle as one worth $45.
Here's the science part: The volunteers' brains were scanned to monitor the neural activity in the medial orbitofrontal cortex – the area of the brain associated with decision-making and pleasure in terms of flavor. Researchers found "expensive" wines made the cortex more active.
Antonio Rangel, who led the research team, told the BBC News website that the experiment showed how "expectation can affect the actual encoding of the pleasantness of the experience."
The BBC expanded on the story:
Wine expert Jancis Robinson says she was not surprised to see that the research was carried out in California.

She argues that American attitudes to wine can be very different to those of the British wine-buying public.

"At least seven years ago, I was told by a sommelier at a top restaurant in California that he couldn't sell wine that was priced at under $100 at bottle," she says. "He was able to sell the same wine when he raised the price to more than $100."
And back to the Times Online:
Other researchers point out that the subjects in the study were not paying for the wine. The pleasure they derived from the belief that they were drinking expensive wine might have been diluted if they had been picking up the bill.

Scott Rick, a researcher in neuroeconomics at Carnegie Mellon University in Pittsburgh, Pennsylvania, said: "There are people who derive pleasure from spending, and those for whom it is painful. In a study of 13,000 people it emerged that 15% were spendthrifts to whom spending gave pleasure and 25% were tight-wads to whom it gave pain, and the remaining 60% fell in between the two."
For the record, this is not why we should be paying more for some beers. We should because they are worth more (though not necessarily nine or ten fold more).
Your turn, Alan.