Snowing on Raton, come morning I'll be through the hills and gone.
Mother thinks the road is long lonely, little brother thinks the road is straight and fine, will little darlin' thinks the road is soft and lovely,
I'm thankful that old road is a friend of mine.
– From Snowing on Raton, by Townes Van Zandt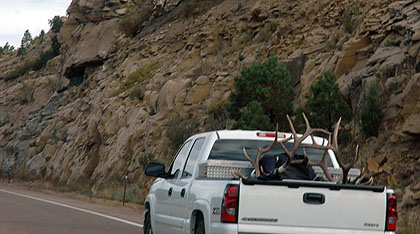 I was not snowing yesterday when I drove over Raton Pass, happily because we've been on the stretch of Interstate 25 in a snowstorm before and I don't recommend it.
However, shortly after I reached Colorado this pickup passed me with these really impressive looking antlers in the back. I hauled out my camera and took this picture (just for you) before he sped on his way. The truck had Wyoming plates so the driver apparently had farther to go then Denver (210 miles up the road).
Something I never would have seen had I flown to Denver (less than an hour from wheels up to wheels down from Albuquerque, but nearly five hours by the time you deal with airports – only 90 minutes faster than driving).
When I left the canyon I popped a Kevin Welch CD into the player. His music is perfect for that stretch of the road, foothills and antelope to the left, prairie that stretches to Kansas and beyond to the right.
Oh, I do love living in the West.