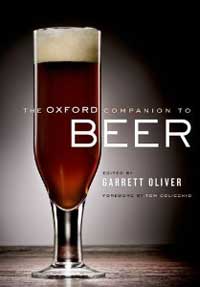 Can you name the most influential (living1) beer writer in the world? I couldn't even begin to try.
But right now you could make an argument for Brooklyn Brewery brewmaster Garrett Oliver — given the attention being lavished on The Oxford Companion to Beer, the four-pound beer book that is a top seller at Amazon.
This is a monster with more than 1,100 entries and it fell to Oliver to decide what got on the beer ark and what didn't.
"Oud bruin, come aboard. Gose, sorry too obscure."
"Serebrianka, we wouldn't turn away one of Cascade's hop ancestors. Centennial? That's a lovely letter of recommendation from Ralph Olson, but we only have room for 70 hop varieties."
That's influence.
However, Oliver nominated a different candidate for most influential last week at the Great American Beer Festival: Eric Asmimov of the New York Times, who writes regularly about wine and very occasionally beer. Oliver offered that opinion toward the end of a half hour discussion in the Brewers Studio Pavilion about "The Evolution of Beer Scholarship." He was making a point about how differently publications of all sorts treat beer and wine.
Few newspapers feature regular coverage of beer (although there are many wine columnists). So while Asimov may write seldom about beer, he does so to a very large audience. There's no denying his reach when he does delve into beer but he doesn't speak with the same influential voice he uses when discussing wine. And he doesn't do it often enough to wield the influence he obviously could.
Just to be clear, he could because he is a terrific and sensible writer. In fact, give his story about the Companion a read and stick around for the brilliant conclusion.
As beer programs like Eleven Madison's and volumes like the "Oxford Companion" are partly an effort to portray beer in all its multifaceted glories, some fear that a consequence will be a rise in the same sort of anxieties and pretentiousness that plague and intimidate wine consumers.

I think this fear is overstated. Beer consumers are a far more confident lot than wine consumers. They're at ease with beer, mostly because they've had a solid grounding in their subject, unlike wine consumers who've been brainwashed into believing they must be educated or taught how to "appreciate" wine before they can enjoy it. The "Oxford Companion" is simply a wonderful resource for what, even when it's complex, unusual, unfamiliar or strikingly different, is still just beer, regardless of how it is dressed up.
Still just beer.
That echoes nicely about the room.
1 In such conversations the word living is implied, because we expect commentary on current events, comparisons of things new. Realistically, four years after his death, Michael Jackson remains the most influential.