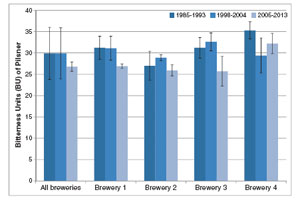 Here is a chilling thought: "If this trend of reducing the hop-content in (German) Pilsner beer continues, by 2030 the Pilsner beer will have similar composition to today's export or lager beers."
The Journal of the Institute of Brewing and Distilling recently published a study that indicated the bitterness level of German pilsners had remained relatively constant between 1983 and 2006, but since then has dipped, now brewing with about 27 International Bitterness Units (IBU) rather than 30. Just in case you thought hops were making a comeback everywhere.
The report suggests there are several possible reasons for the results. "One may be purely economic reasons in times of a declining beer market in Germany. This is probably true for so-called 'discount' beers, which are regularly at the lower end of the legally permissible range regarding original gravity but also regarding (bitterness units). Another reason may be a change in consumer preference towards less bitter beers (a statement that
has often been made during our contacts with industry but which is currently not scientifically verifiable). Or is this an apparent case of consumer deception, because the consumers' expectations may have been intentionally changed by the subtle decline in hop-dosage during a 40 year period? Clearly, a German Pilsner beer today is not what is was in the last century."
The story concludes with a discussion about German food laws and if there should be a way to legally enforce the bitterness level of pilsners. That's not going to happen.
The chart at the top compares four single breweries to the overall trend. The dark blue band on the left represents 1986-2003, the middle band 1998-2004, the one on the right 2005-2013.