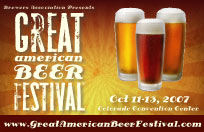 The drafting order is set for The Beer Mapping Project GABF Fantasy League, and I drew the 16th choice. beerinator cut off signups at 30 and the team (is that the right word?) with the last pick of the first round gets the first pick of the second. So in the second I'll be drafting 15th. And so on until we've chosen hundreds of breweries.
Given that the last two years there has been a definite drop off in value after about a half dozen breweries (using the proposed scoring system, which could change) what should my strategy be?
(An aside: Predictions are always easier to make when you have the results in hand – that's called data mining. You might have taken Anheuser-Busch high after the brewery scored 17 points in 2005 and got only three points in 2006 for your trouble. Flossmoor Station Brewing won three medals in 2005 for just three points, but in 2006 scored 13 points with four.)
I figure that A-B, Miller, Pabst (seriously, worth 14 points each of the last two years – Blatz and Stag win medals), Pelican, Flossmoor, New Glarus and nine more breweries will be long gone before Appellation Beer makes a pick.
What should my strategy be (for the 16th pick, but also the 45th and beyond)? Go with a brewery that has been dependable, always or almost always winning at least one medal (like Goose Island and Brooklyn)? Pick a newcomer with some street cred (Terrapin, Surly)? Somebody close to home (Chama River, Il Vicino, even Pagosa Springs)? Or those devoted to beers of conviction?
I need your help.
(I'm still working on the prize for the reader who provides the best advice. I'm sure it will be terrific.)