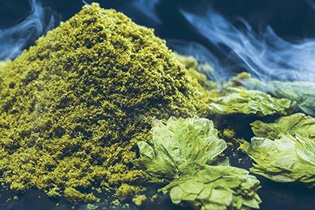 If everybody's Twitter feed looked like mine then Cryo Hops definitely would have been trending yesterday.
YCH Hops rolled out details about what are really multiple products. If you subscribe to the digital edition of Beer Advocate magazine you can read a story I wrote focused mostly on LupuLN2, referred to as lupulin powder before the trademarked name kicked in. I won't rehash that here (update: now available online), except to repeat that it has plenty of brewers who have tried it very excited.

Joe Mohrfeld at Pinthouse Pizza in Austin was one of the first brewers to test drive lupulin powder and offered a ringing endorsement. "The thing that blew me away is it reminded me of standing in the baling room (on a hop farm), the freshness of it," he said.
It's something of a work in progress. When I talked to Blaze Ruud at YCH Hops about developing the Cryo process LupuLN2 was only going to be available in powder form, because pelletizing presented certain challenges. Those since were solved. Before you ask, right now the powder (as well as Debittered Leaf, also a Cryo product) is available to commercial brewers only, but eventually homebrewers will be able to buy it. For further reading about LupuLN2 I refer you to Beer Advocate and to YCH Hops.
There is a certain danger in mentioning things we don't know — because when they turn into knowns there's every chance that I will appear stupid. But where glycosides fit in to a conversation about this new product isn't exactly clear, and for more than one reason. First, not everybody agrees how much they matter in a beer brimming with hop aroma and flavor. Second, what portion of them remains in the powder has not been determined. Third, most brewers will still use pellets elsewhere in the process, and pellets contain the same glycosides as whole cone hops. So consider all of that when you read this excerpt from For The Love of Hops:
Glycosides originate from a protective mechanism of plants and consist of two parts, one a carbohydrate molecule and the other a nonsugar component called aglycone. In hops different aroma compounds act as aglycones and are variety dependent. Unlike essential oils some of these glycosides survive the vigorous wort boiling process. Combined, their parts are odorless and nonvolatile (so they cannot be analyzed using gas chromatography), but various yeast strains cause individual cleavage of glycosides, freeing the aromatic component and adding to what is called kettle hop flavor.

Much of the early research related to glycosides was conducted at Miller Brewing, now MillerCoors, which brews many of its beers using only hop extracts. Carbon dioxide extraction separates hops into the lupulin gland fraction and a lupulin-free solid. Miller discovered that a beer made with only CO2 hop extract, which did not contain glycosides, lacked kettle flavor. "We think true kettle hop flavor is a product of yeast and hops," said Pat Ting, a chemist who began working at Miller in 1978 and retired in 2011. "Sometimes it can be similar to hop oil flavor, but it's not exactly the same."

He paused, looking for the best way to describe how it is different. "Crisper," he said. "People usually cannot describe a hoppy flavor. They associate hop flavor with hop oil content, but that is not what they describe."

Ting explained that this flavor does not result simply from hydrolyzed glycosides but also from the subsequent bioconversion by yeast and perhaps even enzymes and microorganisms in the mouth.

Pattie Aron (also a hop scientist at MillerCoors at that time) phrased this into the sort of question that might be posed during a roundtable hop discussion at MillerCoors, knowing no one so far has published an answer. "There is another area to look at: How does consumption affect the flavor of these molecules? So, say they exist as glycosides in the product being consumed, what happens [in a] mouth that is full of enzymes and other chemical-altering components?" she asked.

When Larry Sidor, (now Crux Fermentation Project founder) who helped modernize American pelletizing when he worked at S.S. Steiner, saw the results of the research at Miller, it made perfect sense to him. He had seen green matter left over during production of Type 45 pellets and smelled what was in the air. "When you don't have that flavor (apparently from glycosides) the beer becomes less drinkable," he said. "How many beers do you have that smell great, then you get to the middle and think, 'Wow, where did it go?'"
In case you had not noticed, hop aroma/flavor is not linear. Studying a little chaos theory might help us make sense of the matrix.