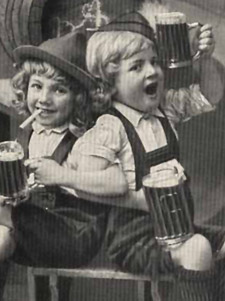 Today's Wall Street Journal reports on a topic that's been simmering in the wine blog and wine discussion board world for a while: the ethics of wine writing, centering on Robert Parker's Wine Advocate.
Read it, and check out blog entries from Dr. Vino and Wine Enthusiast columnist Steve Heimoff.
Now to beer (and a couple more wine links). More than a year ago in looking for an excuse to use a lovely quote from Kenneth Tynan ("A critic's job, nine-tenths of it, is to make way for the good by demolishing the bad") I tossed up a post that generated a silly number of comments, leading to a discussion about the ethics of beer writing.
That probably doesn't need to be revisited. But there is something else to think about. During the course of the Parker flap, the author at winesooth.com asked several prominent wine writers a variety of leading questions. Good reading. But if you check out just one response make it Jancis Robinson's.
She answers questions not asked, including the issue of writing about people who turn into friends. She writes, "I cannot think of a single wine writer who has managed the sort of hermit-like existence that would be required of them if they were to ensure that they had no real human contact with anyone in the wine trade."
The discussion about wine junkets and samples of ridiculously priced wines makes it pretty apparent how wine and beer continue to differ (thank goodness). But friendship, that's universal. It's one of the joys of writing about beer. Something for me to remember when I write and you to remember when you read.
By the way, if you read this far I applaud you. Despite the lengthy discussion's at Parker's website and all the words typed on wine blogs this is a subject I'm not sure how many wine or beer drinkers give a good burp about. Witness the rather meager 11 comments at winesooth.com.