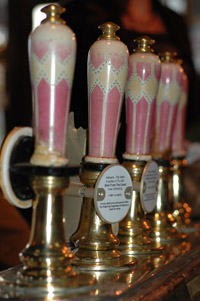 Melisa Cole offers a brilliant post today regarding the news that beer sales in UK pubs have slumped to their lowest level since the 1930s.
I'm a bit confused and bemused by this announcement and what it's trying to achieve; because, to my mind, all this proclamation is going to generate is stories about beer not being popular any more, which – if we're not careful – could surely just become a self-perpetuating prophesy.
As important, she points to a dichotomy that has a direct parallel in the United States. Independent and local brewers report growth of 7.5% per year at the same time larger breweries bemoan tumbling sales.
Much like in the U.S., where those who call themselves craft breweries enjoy double digit growth although overall beer sales remain flat. Here the smaller breweries have gone out of their way to point to these numbers whenever media business stories mention beer losing market share to wine and spirits.
In fact, the number of breweries in the UK is increasing and more pubs are selling cask-conditioned beer. Overall cask sales languish because the "big four" multinational brewers &#151 who control 56% of the ale market &#151 don't support cask.
Cole writes:
The major problem I DO have is that, once again, the BBPA's doom and gloom approach does nothing more than further damage beer's image by painting it as a product that nobody wants.

What this report seems to say to me, when viewed in light of Pete Brown's findings, is that, actually, fewer people want mass-produced products and that the big brewers are missing out by under-investing in their cask brands.
Sound familiar?
Further reading: Five reasons beer sales have slumped.