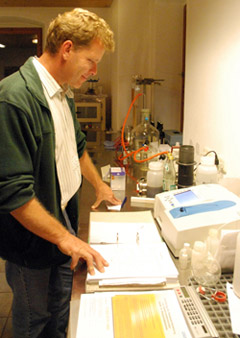 We'll get to the Trader's Joe beer in a moment, but first other news from Nuremberg, where the European Beer Star Awards were handed out today.
American breweries won 25 medals, second only to Germany. Boston Beer (Samuel Adams) grabbed four, including one gold, while Oregon breweries Deschutes and Caldera won three each. Deschutes took gold for Bachelor ESB and Abyss, while Caldera had the top IPA, besting Firestone-Walker's Union Jack (which has been winning everything recently, including this competition in 2008). Sixteen different American breweries won medals.
Personally, I was delighted to see Surtaler Leicht from Private Landbrauerei Schönram in Bavaria win gold as a European Light Lager. It captured the silver last year and I waxed romantic about it for Session #25. Schönramer Pils — I highly recommend the unfiltered version at the restaurant on the brewery grounds — also won gold.
As I've mentioned before Schönram brewmaster Eric Toft (pictured here) is a native of Wyoming.
OK, back to Trader Joe's. Mission Street Honey Blond — brewed by Firestone-Walker — won the bronze in the Specialty Honey category, finishing behind Samuel Adams Honey Porter and Dogfish Head Midas Touch. At $5.99 a better deal than Two Buck (really Three Buck) Chuck, I think.