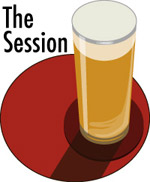 Jon Abernathy has announced the topic for The Session #54: Sour Beer.
A little hard to believe that this many rounds into The Session that the theme of the month has not focused specifically on sour beers, isn't it?
I'll leave the implementation up to you, but here are some suggestions: seek out and review a sour beer of some kind; write about your experiences with brewing a sour beer; talk about your first sour beer experience; who's brewing the better sours—Belgians or Americans (or somebody else)?; perhaps a contrary approach—what you don't like about sour beers. Or if you have the perfect sour beer idea you want to write about, I can't wait to read it!
It could be a busy couple of days for those planning to participate in #IPADay on Aug. 4 and The Session on Aug. 5. (Please don't anybody even whisper the words Sour IPA.)
Both are open to anybody who wants to write on the topic, and for those who don't have a blog Jon will post what you want to write about sour beers. Scroll to the bottom of his post for details.