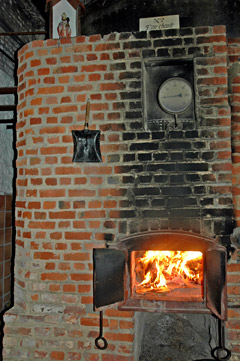 Or Czech?
I think all the chatter about brewing innovation last week locked up my brain, but there's nothing like a list of best beers to give it a kick start.
This time Wine Enthusiast magazine offers its (apparently first) "Top 25 Beers of 2009." You can view the list in pdf form here and the introduction here.
To the credit of Lauren Buzzeo, whose byline is on the introduction, nowhere do I see the Enthusiast screaming BEST BEERS IN THE WORLD. In fact, I can't really tell but it might be drawn only from beers the magazine reviewed in 2009 (did you know they review beers? I knew Stephen Beaumont sometimes wrote stories for them). And let's remember the publication does cater to an American audience. However, if I wanted to be fair all the time I'd have to give up blogging, wouldn't I?
So, let the ranting begin:
In his first Pocket Guide to Beer in 1982, Michael Jackson listed 42 5-star beers. Fourteen were from Germany. This list has zero. Same number as from the United Kingdom.
Five lagers, all from the United States. The Czech Pils? Sierra Nevada's Summerfest. The bock? The doppelbock? The dunkel? Sorry, none of any.
Eighteen of the beers are from the United States, four from Belgium, one from Canada, one from Italy and one from Norway (a collaboration with two U.S. breweries).
Three Belgian White/wit beers, no German weizen beers. Is this a freshness issue? Then drink Schneider Aventinus.
No pale ales or India pale ales (although Avery Maharaja Double IPA makes the list).
Two pumpkin beers (sorry about that, Mike).
Only 11 styles (that's using the magazine's designations, with pumpkin being one of them) represented among the 25 beers listed, so not exactly showcasing a "wide range of styles" (see below).
Most popular style: Belgian Dark Strong, which might be why the average beer on the list is 7% alcohol by volume. Three beers less than 5%. The nine top-rated beers average 8.7%.
Hey, there are great beers on this list (and I can even buy almost 40 percent of them in New Mexico). My point is not that so and so brews a better such and such. I wouldn't pretend my list of 25 would be any better (OK, I lied, you'd like mine better, and I'd probably over-represent America and stronger beers, particularly since I'd include at least one IPA.) So I better quit and let the author have the last word:
"With so many selections currently available to the American beer consumer, it was important to showcase a wide range of styles produced in various countries and regions at all price points. From classic styles like American lagers and wheat beers to newer, more experimental styles such as American wild ales, this list demonstrates both the beauty and craftsmanship of a traditionally brewed beer as well as the excitement and cutting-edge adventure of the craft brewing scene today."
(The photo at the top was taken at Brasserie Caracole, which brews Nostradamus, No. 19 on the list, in the last wood-fired kettles used by a commercial Belgian brewery.)