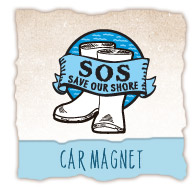 As it did after Katrina, Abita Brewing in Louisiana has brewed a beer to benefit victims of disaster.
This time 75 cents from the sale of every 22-ounce bottle of Save Our Shores (S.O.S.) Charitable Pilsner will will go to a fund that will be used to support those devastated by the BP oil disaster. But here's the rub, via The Mississippi Brew Blog, Abita can't sell the beer in two of the states most affect by the spill.
At 7 percent the beer is too strong to sell in Mississippi and the 22-ounce bottles are too big to sell in Alabama.
Think about it.
Abita first brewed Restoration Ale after Hurricane Katrina — a beer remains on the market — and also sold a variety of related items to raise money to benefit Katrina victims. Likewise 100 percent of the net proceeds from the sale of SOS gear will go to the SOS Fund. I'm pretty sure they are even legal in Alabama and Mississippi.