Doesn't look the message to wait until July of 1969 is going to be a problem . . .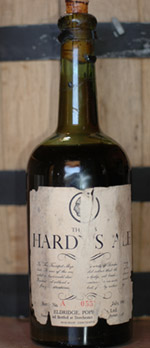 The time has come to open the 1968 bottle of Thomas Hardy's Ale.
Daria gave me this bottle for Christmas more than six years ago, and the immediate question was what to do with it. It's not like there was any reason to expect to be anything other than an experience. Check out Tomme Arthur's notes from a 2004 tasting:
1968- Was the first year that they bottled Hardy's. There were three separate bottlings and the series begins with the A Bottle.

1968 A (The Pint Bottle)- A cork finished bottle with noticeable signs of evaporation. Perhaps they trapped a few thirsty angel's in the bottle when it was packaged? The beer reveals a large Soy Sauce nose with Cidery, Vinegar and Lactic qualities all duking it out in a battle Royale. It finishes smokier than a bar in Chicago with flacid carbonation at best. Color wise, this one leans towards the dark to medium dark spectrum.

1968 "B" Bottling- Upon inspection, this one holds little promise. An incredible (ridiculous) amount of beer is missing. The cork crumbles upon insertion of the cork screw. Not a good sign! The beer embraces this cork situation to the max and I'm soon wondering if can send back a beer I haven't even paid for? For some reason, this vintage has a Tobasco(tm) like flavors. It's beyond bizarre. How do you do that in beer? Without a doubt not as good as the "A" bottle.

1968 "C" Bottling Capped Bottle- Now this is classic Hardy's! We're greeted by Vinegar, Oxidation and winey notes that wreak of musty cellars in wine country. It's quite dry and light bodied. Tawny and Orangey in a way that the other two 68's aren't. The beer finishes with a clarity of purpose that exudes world class and demands that we hand the tag of red headed step child to its lesser brother- bottling "B." The 1968 Hardy's Capped bottle was an all timer for me this afternoon.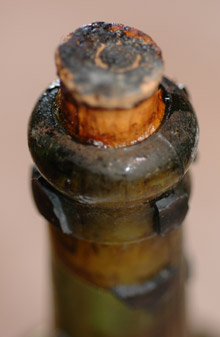 And when Daria bought it in an eBay auction the chap in the UK stated up front that he hadn't treated the beer with the care stated on the back label (which sits on the bottle just as crooked as it looks in the photo above). But it didn't seem right to set it out on shelf — because I want to look at it, that's why — with the beer still inside. You'll notice up top that the beer no longer reaches into the neck.
So I stored it on its side at about 55 F and we talked about what to do next. Daria hit on the idea it would be good to open in 2008, since the beer turns 40 and I turn 60. That was before we planned to be in Belgium on my birthday. And hauling a 40-year-old bottle of beer that's likely going to suck didn't seem so appealing.
Thus we're planning on opening it tomorrow along with six other vintages (we're expecting help drinking these). Just a few questions to answer first. What order should we drink the beers in? One possibility is to start with the 1968 (figuring it's beyond hope), then drink the youngest and work our way toward the oldest (1992, and the previous one was excellent).
And how the heck do we safely get the cork out of the bottle?