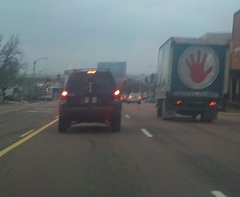 Or maybe it is Things I never thought I'd see . . .
Anyway, more than 14 years ago our daughter, Sierra, not yet a year old, matched her hand up against a sticker in the brewery at Left Hand Brewing in Longmont, Colorado. For years I told a perhaps-made-up-story about how she learned to tell her left from right by checking Left Hand bottle caps.
So this morning after I dropped her at high school I'm heading home and not far up the road I see a beer truck with a giant Left Hand logo on the back. Not something I ever thought I'd see driving along a street in St. Louis (Clayton in reality, but this way you don't have to get out a map).