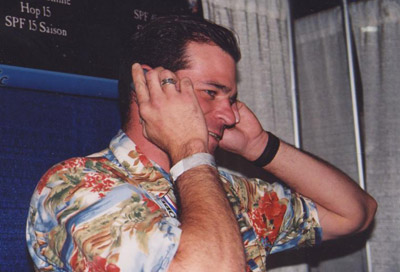 This is the way it is supposed to work, but when you interrupt your beer culture for about 100 years then some things – like ongoing addition of "new blood" and thus innovation – start to fall through the cracks.
Food and wine magazines are constantly featuring the hot new chefs, new winemakers and even new sommeliers. In an interview in the New York Times wine authority Jancis Robinson was asked what she sees as the most important change in the wine world.
"Oh, the upgrade of quality, and the enthusiasm and ambition of winemakers everywhere," she said.
That's also happening in beer, although you're less likely to see brewers' mugs in glossy magazines.
Instead San Diego Union-Tribune illustrates the point with a feature on Jeff Bagby (pictured above at the 2003 Great American Beer Festival) of Pizza Port Carlsbad.
The author calls Bagby one of the county's most intuitive brewers (how do you measure that?), "willing to base a beer on a hunch."
"A lot of it is a shot in the dark," Bagby tells him.
Perhaps – and if so his aim is still pretty good – but his beers are no accident. In part because it seems he's always in "research" mode. The easiest way to find the new and interesting beers at the Great American Beer Festival is to ask Bagby – or another of his generation of New American brewers like Will Meyers of Cambridge (Mass.) Brewing – because he's out talking to other brewers and tasting beer.
Now go back to Robinson's quote. Do you think we could say this?
"Oh, the upgrade of quality, and the enthusiasm and ambition of beermakers everywhere."
OK, not everywhere, but Robinson probably wasn't including Yellow Tail either.