"I am special, I am special! Please, God, please, don't let me be normal!"
— Louisa, from The Fantasticks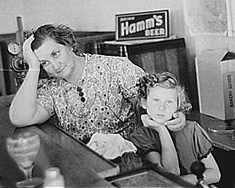 Would you think me more special if I had tasted every particularly rare beer on the Rate Beer or Beer Advocate top howmanyever lists?
Is your palate better than mine because you appreciate the subtleties of low alcohol, lightly hopped beers and if I can't taste a big-sized dose of Simcoe/Citra/Amarillo hops I'm bored silly?
Do you watch American Idol?
If you answered yes to any of the above I'm not quite sure why you are here. But, please, don't leave. It's little fun drinking alone; the point of drinking beer would be lost.
I've been considering this for almost two weeks, since Zak Avery posted his questioin about Elitism in Beer. To understand you should read that post and the comments, skip over to Alan's follow up (again, the proof is in the comments), then back up to Tandleman's Beer Blog, particularly this post (and, ahem, the comments).
Now indulge me by following one more link, this one to W. Blake Gray's essay about "Why all wine lovers just don't get along."
He starts with a "study" from Constellation Brands a few years back that divided wine drinkers into six categories. The two he zeros in on are "Image Seekers" (he renames them "Quality Seekers") and "Enthusiasts," writing "The former spend the most money on wine; the latter expend the most verbiage on it. These are the only two who care enough about wine to read articles or blog posts about it."
Hmmm. The others are: Overwhelmed (buy wine but don't know anything about it); Satisfied Sippers (buy the same brand); Savvy Shoppers (look for discounts); and Traditionalists (like old wineries and are brand-loyal). I'm pretty sure that beer drinkers who would fit into similar categories can read, and I hope they do.
Anyway, I can't resist this analogy: "And like a marriage entered into after one date, they are stuck together even though they're incompatible, with verbal sparks flying all the time."
To make the distinction clear he reduces it to one word (well, one word each, two in total).
Quality (or Image) Seekers want "great."
Enthusiasts want "interesting."
The beer-wine analogy is not perfect, but Gray says that Image Seekers (in this case I like the Constellation verbage) spend more and enthusiasts are reluctant to — in part because they understand how many great choices there are at more reasonable prices. "Quality Seekers would spend four times as much to get a wine that's 10% better," he writes.
Now to the nut.
What strikes me is how deaf both sides are to the other. The 100-point scale debate, for example: I'm always astounded that Enthusiasts want to take information away from Quality Seekers, and don't even try to understand why they would want it.

Meanwhile, on the Quality Seekers side, they look at Enthusiasts the way people with jobs looked at tie-dyed student protesters. Yeah, yeah, you love the sound of your own voices. The louder you yell, the less I'm going to listen.
Go back and read the comments in the links above. You catch a bit of that sort of attitude, but you also get the sense that the participants understand (in part because they live in a relatively small country) they might some day continue their discussion in person rather than via a keyboard and computer screen.
Over a beer. So it will be civilized.
Which is what makes beer great.