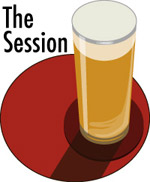 Glenn Humphries at beer is your friend has announced the topic for The Session #76: Compulsion.
Oh, boy, a chance for more baring of the soul.
He provides a few suggestions related to the topic: Why keep buy beer when you have a cellar full? (And what lengths do you go to hide this?) Why keep making more homebrew than you possible drink and maybe even give away? If you're on holidays and you drive by a brewery, are you compelled to stop in?
Ticking, what about ticking? Shouldn't that be on the list?
Session #76 in June 7 and open to any bloggers who want to participate. Simply add a link to your post in the comments following Glen's announcement.