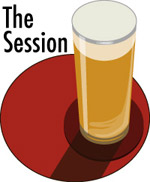 Host Bryan Roth has announced the topic for April's Session, the 74th for those of you keeping score at home, is "Finding Beer Balance." Here are the basics:
Is beer your vice? Is beer your reward? Does beer really have to be either? Do you find lifestyle balance through work, hobbies, family or maybe even "Dry Days" like David Bascombe? There are a variety of ways to find balance.

These questions are simply a jumping-off point. No matter what your answer, I'd love for you to join us in April. Here's how to participate:

– Think of a response to post on your blog. Or just leave a response in the comment section – no blog (or blogging experience) necessary.
– Post your response on "Finding Beer Balance" on April 5.
– Come back to this post and leave a comment with a link to your response.
It's that easy. But most important, don't forget to check out the great work of other participants. I'll have a round-up of all the responses on Sunday, April 7.
Should your brain need a jump start, Boak and Bailey recently addressed the question "What is balance in beer?" (I hesitated the reference, since it includes a nod toward my latest book and you probably feel I've been slagging that enough. Read it anyway.)