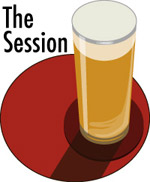 For The Session #67, host Derrick Peterman has asked us to predict how many American breweries will be operating in 2017 (presumably at this time of the year).
2,620.
I used a proprietary formula, but you don't care about the details anyway. I find it amusing that the figure happens to land smack dab in the middle of what one book reports as the number of operating breweries in the United States in 1879 and what was published in another.
History of the Brewing Industry and Brewing Science in America has a list of the number of breweries in operation for each year from 1863 through 1920. This is the source used most often when comparisons are made between the number of breweries now and in the past, and where the peak of 4,131 is reported (1873). By 1879, the number was shrinking, to 2,719.
Beer, Its History and Its Economic Value as a National Beverage provides a look at only two years, 1878 and 1879 (it was published in 1880), but in more depth. It lists every brewery in operation and, in most cases, how much it brewed. There are 2,520 breweries on the list.
Makes me go hmmmm and reaffirms my thought there are better things to focus on than the number of breweries. Stuff like access, diversity, quality. The numbers in Beer, Its History don't really address such matters, but they do illustrate how much more local/regional beer once was.
George Ehret's Hell Gate Brewery was the biggest brewery in the country, selling 180,152 barrels (about 1.5% of U.S. production). Only seven breweries sold more than 100,000 (31-gallon) barrels. In 2011, more than 30 did. Of course, the U.S. is a little bigger today.
In 1879, 150 breweries sold more than 15,000 barrels, but in 2011 only a little over 100.
Two hundred and seventeen breweries sold between 5,000 and 15,000 then, compared to 71 in 2011. Seems to be room for growth there. Or are the bigger breweries squeezing them on one side, the smaller ones on the other?
This sort of data mining tells us little about the future. Maybe Amazon is a better indicator. I see that a book titled, A Brewer's Guide to Opening a Nano Brewery: Your $10,000 Brewery Consultant for $15 (Volume 1) is selling pretty well (better than mine). Are the people who buy it like arm-chair travelers, content to read and dream?
Or what will happen when dreams meet reality?
Oscar Blues founder Dale Katechis addressed that in an online interview last week:
"To me, it's overwhelming to see how many people are getting into the segment. I can't even keep track of even the ones in Colorado alone that are opening. It's a little scary because I guess we've learned a little bit along the way and we've learned that draft beer doesn't make you any money. The entire industry knows that. Then I hear of a guy that is a home brewer and is going to cash in his 401k and open a little craft brewery and start delivering kegs around town. Well, it's not my place to call him and say, 'you're crazy,' but there is going to be some fallout."
Before 2017, after 2017, or at all?