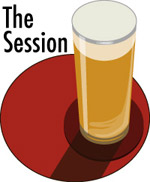 Berkshire Brewing founders Chris Lalli and Gary Bogoff first brewed Raspberry Strong Ale for Christmas in 1990 using three-quarters pound of whole raspberries per gallon and it became in instant Christmas tradition.
When they started making it commercially in 1996 they stuck with real fruit, which is why it seems like an excellent choice for today's Session. [The Session is a virtual gathering of beer bloggers on the first Friday of the month, all writing to the same theme. Greg Clow hosts today.]
They cut back the raspberries a bit, using one-half pound per gallon, adding them after primary fermentation. "After seven-to-ten days you can see the berries start to turn a fleshy color," Bogoff said. That's because the color, and flavor, has moved on to the beer. It pours a reddish-brown that takes almost all its color from the berries because the base beer is a strong pale ale.
"We made it as a Christmas treat," Bogoff said. "We like fruit, but we thought beers made with extract or syrup ended up more on the soda-sweet side rather than tasting like beer."
They brewed seven barrels back in 1996, while they made 60 barrels for release on Valentine's Day this year and plan to brew 80 barrels in December for Valentine's Day 2008.
"We did it to spoil ourselves," Bogoff said. "We knew that if we did a beer like this in 1994 (the year Berkshire opened) we'd have been out of business in two months – it was just too weird."
They quickly discovered that tracking down raspberries for a 210-gallon batch was a bit more of a challenge than for 10 gallons. They ended up ordering raspberries grown in Chile through Sysco. Four years ago they found a local farmer who can provide enough fruit. He harvests the berries in July and August and they are frozen and stored at a nearby ice cream plant.
The result is a deceptively strong 9% abv beer (its nickname in the brewery is "Truth Serum") that leaves a final impression of fresh raspberry. Underlying malt complexity, the sweet-tart raspberry balance and a relatively dry finish all help it avoid that soda sweetness Bogoff was talking about.
Granted, he's biased and has been drinking the beer for more than 16 years, but earlier this week he was just another guy drinking Raspberry Strong and he finished his glass before I downed mine (although I was liking each sip).
Had Chris Lalli been around as well I probably would have been third. After all, these guys made this for themselves.