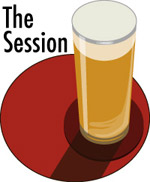 Before the clock strikes twelve here in the Mountain Time Zone on Session Friday just a few thoughts vaguely related to our assignment for Session #51, hosted by Jay Brooks and called "The Great Online Beer & Cheese-Off."
I apologize for not exactly staying on track. If you read Jay's post or Bryan Koselar's you'll see this was a great social and perhaps educational opportunity. But this was not a party week around here, nor was there time to round up friends or beers.
Sierra and I enjoyed a simple "cheese night," very nice but not the same with mom a thousand miles away. (We're packing like crazy, discarding, condensing, etc., and should be in St. Louis for the Heritage Festival.) But without my favorite beer drinking companion a simple beer night became simpler still.
The kid and I shared Maytag Blue Cheese (from Jay's list), Manchego aged 12 months and cave-aged Gruyere. I wasn't about to open a bunch of beers I wouldn't finish.
I don't remember how "cheese night" became a regular but always anticipated event in our house. Certainly not because we can hoof on down to the store and buy something made locally. Great cheese at Whole Foods, yes. From anywhere nearby, no.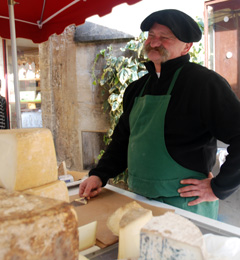 Perhaps that is why during our Grand Adventure we scooped up Wisconsin cheese in Wisconsin, Vermont cheese in Vermont, French cheese in France. Why we sought out places where cheese is made (quick bit of advice, not every road leading to a Vermont cheese facility is fun driving, and the worst case scenario is you might find he road out blocked by sheep and the gate you came in through locked). Watching cheese made is not as exciting, or as personal, as seeing somebody make beer, or potato chips for that matter. More on a level of Moose Munch or Jelly Bellys (sorry, but we find it hard to pass on any factory tour that includes ingestible samples at the finish).
Then you meet the guy above at a Saturday market in the French countryside. He slices off really thin slices (just a taste) and he tells you Americans hate this. "You like it? You'll hate this." And you like it as well. And pretty soon you've spent 37 euros on not very much cheese. You give him a 100 euro bill. He says he'll have to get change for the neighboring booth. He returns with 13 euros. You tell him you gave him a 100 euro bill. He apologizes and you leave happy, because you've only spent something like $40 a pound for cheese at an open-air market.
That's not a complaint. The cheese was great. And it was great during a picnic lunch with wine. Let's be honest, wine would have served the cheese Sierra and I enjoyed tonight just fine. But that wasn't the assignment, was it?
I had Boulevard's Smokestack Tank 7 with "meal" portion, eating mostly Gruyere and Manchego. It was tougher to pick what to have for dessert, to stand up to the Maytag Blue. I thought about an Imperial Stout, a Double IPA (if locally brewed Marble were in 12-ounce bottles instead of 22s that likely would have been the choice) and then decided on a 2004 Sierra Nevada Bigfoot Barleywine.
Tank 7 is a beer with some heft, 8 percent alcohol and plenty of hops (flavor, bitterness, citrus and juicy). The Gruyere and Manchego are cheeses with finesse, but with age their flavors grow more intense. Their earthiness and that in the Tank 7 play well together, peppery notes stronger when the beer and cheese are joined in the mouth than they are in the saison by itself.
Tank 7 doesn't seem quite as confident matched with the Maytag, but underlying fruity notes and a touch of sweetness don't give up against the richness of the blue cheese or the tangy notes that imply vinaigrette must be nearby.
I chose Bigfoot to stand up to the Maytag, and its deep, rich maltiness (accented with oxidized sherry notes) certainly did. But it wasn't so big it overwhelmed the Gruyere. In this case the saltiness of the cheese enhanced the malt sweetness, and in turn made the hop bitterness more satisfying. And the Manchego was a total surprise. Too many cheeses made with sheep's milk smell like a hot county fair 4-H barns in the Midwest in August. That's not a earthy aroma; that's sweaty wool and sheep shit. Manchego is earthy.
Tonight, after this long week, I was mostly interested in drinking the Bigfoot, so a tiny bit of each cheese was plenty for dessert. Then two-thirds of the way through the beer I got to thinking about the Manchego. I headed back to the fridge for another piece. I let it sit on my tongue and took a sip of Bigfoot. I inhaled and the aroma took the direct route to my brain only aroma knows.
Alaskan rain forest. Wet. That's a good dirt smell. Thank you, cheese. Thank you, beer.