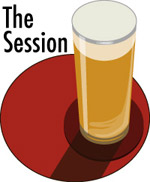 Snekse, of the Gastronomic Fight Club, has chosen the theme for Session #4 and it's not a style. He wants us all to taste local beers.
His guidelines:
You can pick anything commercially made within 150 miles of your house, but try to pick the brewery or brewpub closest to your house.
You can select any beer or even a sampler if you want.
If you select a single beer, let us know why you choose this beer (e.g. favorite,seasonal,limited edition, best seller).
Preferably you'll shy away from beers with wide distribution outside your immediate area.
I like this idea quite a bit, although I have 13 breweries within 150 miles of my house – and this is New Mexico. The Brewers Association last year figured out that the average American lives within 10 miles of a brewery, and next week is promoting the Great American Beer Tour as part of American Craft Beer Week.
There's every chance I'll be walking to Session #4 and drinking a beer available only on draft.